General Correspondence
Photo by Joey Contreras Jr.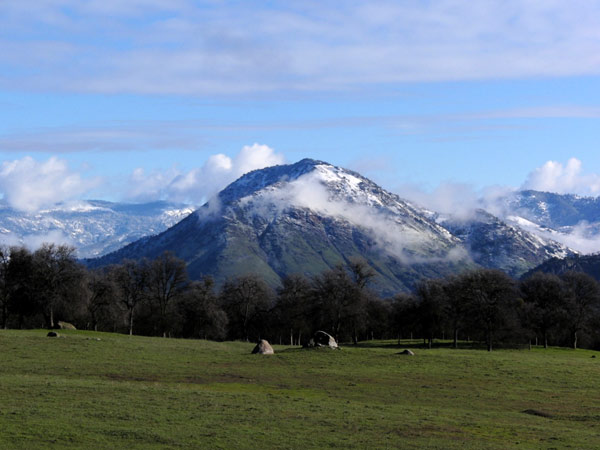 Discipling Over Food Issues
October 5th, 2013
Dear Helen,
I've been wracking my brain over a problem with my youngest (18 months) now for several months and you came to mind this evening and maybe you can offer some advice.
The problem is with food. Each of our children were exclusively breastfed until they were 12 months old. My oldest child will eat just about anything. He enjoys a wide variety of foods and his favorites include raw sweet peppers and steamed broccoli. My daughter is more finicky, but she knows the rules in our home and will either eat without complaining or go hungry until the next meal. Both of these children were very chubby as babies and toddlers. Then there is number 3. He never did amass the amounts of baby fat that his older siblings did. And from the 6 mo and 12 mo visit with the midwife, we grew in height but almost nothing in weight. My concern is that he would rather just nurse. He doesn't seem to like food much. He LOVES smoothies and will gulp down almost any flavor. I often add kale, carrots, cabbage, even bits of beets. Slowly, slowly he tries new foods, but still he will eat less than a dozen things including scrambled eggs, yogurt, oatmeal, mac-n-cheese, and just recently broccoli, along with various fruits and cheese and on a couple of occasions ground beef.
I think my biggest problem is within myself. I want to be nursing him less so that I can get my cycle back. I'm 37 and my husband is 43. He is feeling that we are getting close to being too old for babies and I'm anxious for another. :) As far as the health of my son, I think he is growing and healthy. I'm just wondering if you could share some thoughts on the matter.
Thank you for your time.
Sue Ellen



Bluebird making a nest
in a bird house Timothy built.
Copyright by Timothy E. Aardsma.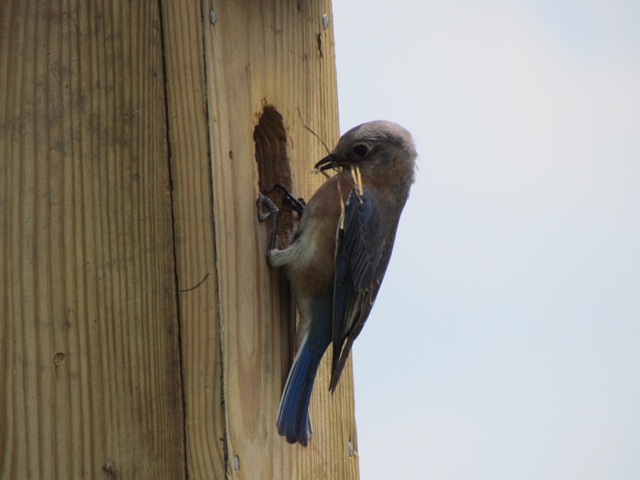 Hello Sue Ellen,
We have never made food an issue in our home. We don't discipline over food. We don't make them eat anything they don't like. We encourage them to try things, but never force them to eat something or punish for not trying it. All of our children are very good eaters, but even now as they are teenagers we don't make them eat foods they despise like onions or peas or whatever. Even as adults we have our likes and dislikes and they should be respected, even in children. They won't starve or be malnourished. Don't worry.
There are many other things to discipline for like lying or sassing, but not food. So don't worry; you will have plenty of opportunities to let the children know you are in charge and that they must obey you. Not liking peas is not a sin. It is just a preference.
We make meal times pleasant in our home. That is not the time to make everyone upset about who isn't eating what and who must stay at the table to be punished, etc. Meal times are feast times, like in the Bible, and should be a time of joy and fun and pleasure in eating wonderful food God has given us. Make it a positive family time. I try not to bring up any discipline issues during that time, that have occurred during the day, or anything unpleasant, for that matter.
You must do what is in the best interest of your 19 month old. Nursing is way better for him than anything else. If he just wants to nurse, let him nurse. He doesn't need a snitch of anything else. I always would nurse them even while we were all eating, knowing it is better for them.
You have to put your own desires of wanting another baby aside and trust God with that, and meet your little one's needs to nurse. It is both for food and for comfort. Who cares which? Let him nurse at will. God can send you another baby, even with you nursing completely on demand and if your toddler eats nothing else but breast milk. They will naturally wean sometime between 3 and 4 years of age.
Give up the control. Let God handle it all. It will bring you peace. God can do a way better job than you can in planning your family.
Relax. Trust.
Enjoy what you have now.
Enjoy nursing the little one. It is a very special time and one you cannot get back. You may never have another baby and you will have pushed the one you have to grow up too fast.
Do write again if I can assist you further.
Blessings,
Helen
The Family Bed
November 30, 2012
Hello Mrs Aardsma,
I noticed that you co-slept with your children and I was wondering how you handled the transitions time. I have 3 children and 1 on the way. The oldest 2 we co-slept with and they now sleep on crib mattresses on the floor by our bed. They are ages 6 and 4. They have a room across the hall with a full bed in it but anytime they want to try sleeping in it at night within 10 min they come back to sleeping by our bed. I am also now trying to get our youngest who is almost 20 months to sleep on a crib mattress on the floor instead of in our bed as I am soon expecting another baby and anytime he tries to sleep closer to his dad instead of me, my husband can't sleep with the movement.
I don't know of any one personally who has regularly co-slept so I feel alone trying to figure this out and what is best for my children and for me and my husband.
Thank you,
D.
Hello D.,
Great questions.
Do you have a king size bed? If not, you need one. :)
With the oldest being 6, what he/she is communicating is that they aren't ready to be away from you at night yet. Expect another couple of years yet.....ours were with us until about 8 or so. At one point we had two in our bed and four on the floor! :) The older ones do well to sleep together after age 8 or so. A younger child will want to be with an older child.
A good plan is to have a king size mattress on the floor (no bed or box springs) in a room that is only a bed and nothing else. The kids can sleep around the edges in sleeping bags on twins or even on the floor. This way you can hold their hands if they are lonely and be in touch, literally, when they need it.
Use the room across the hall to put dressers and other stuff that you would normally have in a "normal modern" master bedroom. This way if some are still sleeping in the morning or to bed early at night you can still get the stuff you need without disturbing the sleepers, including husband. It has many advantages!
20 months old is too young to be out of touch at night. They need you to be close to them, whole body type of thing. If you don't meet their needs now, you will be forced to do so when they are older and it won't be pretty. Do it now while it is easy. They need your comfort now. You will all sleep better if you keep him close to you.
Maybe your husband can sleep on the floor on another singe mattress up close to the king mattress giving you more space. Think creatively and out of the box on this one. Some men don't like to be disturbed, even though they like the family bed concept, and want to be all together, but they need their sleep. The twin for your husband would also work for lovemaking after everyone is asleep and it won't disturb the sleepers on the king mattress.
One family we knew all slept on the hard floor together with just blankets. I can't imagine it myself, but they all are fine. They have great backs! I'd die doing that.
They do grow up and trust me, you will look back with happy memories and a clear conscience that you were there for them and did the best you could to give them the best start in life.
Don't worry about what other people think. All families have to figure things out for themselves and I would usually say things like, "People have done this for hundreds of years. We're all happy this way and we are doing what we think is best for our family". My other answer is, "My husband loves it this way and I want to make him happy" etc. What can they say? :)
Have you read the family bed by Tina Thevenin? A must read!
Do write again if I can assist you further.
Blessings,
Helen
January 19, 2013
Thank you so much for answering my questions. It was very encouraging. I have another question.
With little ones so attached to me and the older ones not wanting to go to sleep without us near them, how did you find time for just you and your husband? My husband's work schedule is not consistent (sometimes days and sometimes nights). It seems that we are constantly dealing with interruptions and trying to have date nights has been difficult because I usually have a nursing one that is hard for me to leave. I know this has been a source of irritation for my husband over the years but we haven't come up with a good solution yet. I want to meet my husband's needs too.
Do you have any ideas?
Thanks!
D.
Dear D.,
Yes, this is a challenge. But where there's a will, there's a way! :) Talk to your husband about it and try to think creatively on this.
It is very important for attached moms to make time for this part of your marriage or resentment can easily creep in from the husband's point of view.
My husband and I have a commitment to two "date" nights a week. Once the baby is asleep, we would often have a quick shower and use the bathroom floor piled with a blanket and pillow.
Your kids are younger, so they should be sound asleep after a period of time and then you can use the spare room. We have used our own bed much of the time, after we know the little ones are asleep. We have also used the floor in our room.
Blessings,
Helen
January 15, 2013.
Dear Helen,
Thank you once again.
How did you get your children to go to sleep? With the children needing our presence to go to sleep we have ended up just all going to bed at the same time and usually by the time they are asleep so are we. Then often one of them wakes up when we do we so we have no time for just us to talk and have time together without the presence of children.
D.
Dear D.,
Of course, I rocked and nursed the baby to sleep. While doing that, the little ones would lay on the bed; our bedroom has a rocking chair and large bed and nothing else. I would sing to them all. The room would be quiet and fairly dark. We also ran a white noise machine. You can use air filters, fans, etc. This keeps the background noise from keeping the children awake.
Part of the secret is making sure the children really are tired. It isn't fair to get upset with your children if they won't go to sleep when they aren't tired. Would you want someone to do that to you?
No naps after age three or so. Also waking them up in the morning and not getting them into the habit of staying up late and sleeping in late, unless that is what you want. As much as I would hate to do it, I would wake the children up when I got up. They would then go about 12 hours or so and be very tired and ready for bed.
Watch out for caffeine after lunch time. Chocolate, sodas, coffee, etc. It can make children wired for hours.
On "date nights" try to rest in the afternoon if you can, even on the couch for an hour or so. This makes you not so exhausted in the evening.
You can do your talking time with your husband while doing other things. For example, set up the kids outside with shovels, spoons, buckets, etc. and then sitting a little ways off so you can watch them, you can talk. Taking the kids to a park, or for a walk, etc. I used to just say to the kids that Mom and Dad needed some talk time and that they should go and play. Use your creativity. You can also get the older children to watch the littler ones in another room, so you can talk.
Blessings,
Helen
March 19, 2009
Dear Helen,
I was reconsidering using a schedule for my 19 month old daughter, such as that of the Ezzos in Growing Kids God's Way, since my husband's cousin, mother of 5, recommended it (I had previously looked at it and decided it was not good, at least for newborns). It was in this search (I was actually searching for a schedule from GKGW) that I came across your article, "Woman to Woman" which led me to your "Mothers Companion" website. Thank you for this article. I think you have hit the nail on the head. In fact, even before reading your article, I had been asking myself who there was in town who was a Godly Christian woman who had raised children like whom I would like mine to turn out. I even asked my husband if there was any couple in town who had had children who turned out well and to whom we could go to advice (I only moved here since I married 3.5 years ago; he's been here about 20 years). We've just ended up resigning from our church late last year (over many things---for instance the pastor believed that the song he liked telling non-Christian people to "try" Jesus if they needed a friend was ok because having tried Jesus they wouldn't go back; also that he was saved before he repented). However, at our ex-Church (which was fairly small) the other mothers of young children were using the Ezzo's material (Babywise or Growing Kids God's Way) and thought it was wonderful. The pastor's wife recommended it to me as she thought that the children were happier and more content on it (her daughter-in-law was using it on the pastor's wife's grandchildren). Anyhow, I hope you will not mind and have time to give me some advice. First of all though, I would quickly like to let you know of some information that I hope will be useful for your husband's research.
Although I find Biblical chronology very interesting, I have not had a lot of time to go into it very much. I've only had a very quick glance at Gerald's website. The most intriguing link was the "missing millennium", and I read the summary there. I would say I have to agree that there are more than 480 years between the Exodus and the temple. However, I think there are only 114 extra years. I say this based on the work of David L. Cooper, Th.M., PhD., Litt.D. in his book "Messiah: His First Coming Scheduled" (Messianic Series Number 4, available at http://www.biblicalresearch.info/page1d.html ). Dr. Cooper has shown that if one looks carefully at the times given in the Bible for all the individual events between the Exodus and the temple, and adds them all up, one comes to a total of 594 years, not 480, a discrepancy of 114 years. However, a close examination of the data reveals that Israel was out of fellowship with God for exactly this number of years, being in servitude to to other nations for 111 years and having a 3 year usurpation of Abimelech. Hence, the 480 years are the "theocratic" years in which Israel was being ruled by God and not handed over for judgement to other nations. I would really encourage you and Gerald to read Cooper's book (I must admit I have not managed to read all of it myself yet, though). I have to also put in a disclaimer that I am dubious about his (Cooper's) statement that there was a world which Satan destroyed and then God re-created in Genesis 1 (a form of gap theory). Nevertheless, most of the other things he says I find to be quite good. Cooper does mention excavations at Jericho, and fits in the Egyptian rulers with his chronology. The part about the 480 years vs. the 594 years is at the end of the chapter called "The Period of the Judges" (Chapter 7), and also at the end of Chapter 4. Comments on the Pharaohs are in Chapter 4, "Israel's Bondage in Egypt and the Exodus", Section II and III. (Disclaimer: This might not be an exhaustive list.) Dr. Cooper's chronology also agrees with the statement in Acts 13:19-20 by Paul that the period of the Judges was 450 years.
Another line of evidence is the calendar of the ancient Maya. Their calendar was extremely accurate, even more accurate than ours. They calculated the solar year at 365.2420 days, a minus error of only 0.0002 of a day. The year zero on the Mayan calendar was the creaton of the world. It agrees to within about 56 years of Ussher's famous chronology, being 56 years shorter than the 4004 B.C. date of Ussher. I read this information in "The Puzzle of Ancient Man: Advanced Technology in Past Civilizations?" by Donald E. Chittick published by Creation Compass, pp. 119-124. This book gives only a superficial overview, I am afraid. The references are to Graham Hancock, "Fingerprints of the Gods", New York, Crown Trade Paperbacks, 1995, pp. 159, 242, 234-237 and Bill Cooper, "After the Flood: The Early post-Flood History of Europe," New Wine Press, West Sussex, pp. 127 - 128 (not sure if the Bill Cooper reference is to Mayans, or just other cultures with similar dates of creation), and Silvanus Morley, "The Ancient Maya," Stanford University Press, 1956, pp. 256-257, 242, 234-237.
I know that if David Cooper is correct, it's going to be heart-breaking to realize you've put so much work into something not quite right. I know the sinking feeling you get when you read a review of your work you've submitted for publication which says it has fundamental errors or has been done before (I was a research associate until I resigned my job at the end of last year). Nevertheless, I think the truth is important, so I hope you'll at least check these things out if you have not read Cooper's work before.
Now, back to my daughter, Hannah. Probably our biggest challenge is getting her to sleep. I generally spend an hour after lunch and an hour at bed-time getting her to sleep. Sometimes, I will take her to bed on 3 different occasions during the day before I finally get her to sleep. Often, she will only go to sleep while breast-feeding. There is so much relevant information to tell, I'm not sure where to start. When she was 8 weeks old, she did sleep right through the night for (I think) a couple of weeks (I didn't write it down). After that, we seemed to have permanent teething troubles from 3 or 4 months until about 1 year. Some nights I ended up sleeping in the chair in the lounge with her in an upright position as she could not sleep lying down. At one stage I was giving her Nurofen (an NSAID painkiller) once every 2 or 3 days for a couple of weeks at a time. I tried to give it as little as possible, as I think such things are probably bad for one. I also have food intolerances, which I think it is highly likely I have passed on to her. I cannot have anything from a cow or bull, and neither can I tolerate gluten. There are other things that upset me, but I have not managed to figure out what they are. I suspect I may have an enzyme deficiency which means I cannot digest carbohydrates (particularly large servings of carbohydrates) and they therefore ferment in my bowel causing gas and bloating. Hannah mostly sticks to my diet (with the exception of sharing her father's breakfast of rolled oats, which give me me bellyache). On the rare occasions (two, I think) she's had ice cream (cow's milk), we've had a sleepless night and green poos.
To get Hannah to sleep, I take her to her bed (a Queen size inner spring mattress on the floor), and lie down with her and feed her. If she is really, really tired, to the point of being very grumpy and uncooperative (e.g. if we have been out and her after-lunch nap is delayed until 4 or 5:30 pm), she will go to sleep very quickly sucking on the breast and I can get up and leave her. Otherwise, she will have a drink and then get up and want to play (she wants me to get up too, and play with her). This is despite tired signs of rubbing eyes and starting to get a bit grumpy. I will then usually attempt to hold her down in a lying down position beside me. At this, she screams and screams. After a bit of screaming, I will re-offer a breast, which she will accept. Sometimes she then goes to sleep, and other times she wants to get up and play again. A similar thing happens at night. At night she seems to think that she needs to do gymnastics while breastfeeding, which I find quite annoying, especially when her teeth move with the rest of her body (I am amazed at how much she can move and keep her teeth still). At night, if she's doing gymnastics and not really drinking, or is not drinking and sitting up and not going to sleep, and I've tried to hold her down and it didn't work, I will hand over to my husband. He used to hold her down and she would scream and then go to sleep. Now, she won't let him touch her after I've "deserted" her (she is quite happy to see him at other times), but will lie down by herself and scream, or perhaps appear to be asleep but be watching/alert, so that when he tries to leave the room, she gets up and comes crying after him. Often if she does go to sleep, it is with a leg or arm over one of us, so that when we try to leave, she often wakes up (although often we can sneak away gently). Currently she wakes up once or twice a night for milk, and on a bad night, much more. Some nights she is very unsettled, and I am unable to get away as every tiny movement I make she wakes up and cries. I cannot even roll over to get into a more comfortable position without waking her. I think these nights she also seems to let off a lot of gas, so maybe she has bellyache. Sometimes I also have a bit of mild bellyache on these nights from something we've eaten. Often, by the time she is asleep at night, so am I. This means I end up sleeping the night with my daughter, instead of my husband. I know he would very much like his wife back in his bed. Moving Hannah to our bed is not really an option, as none of us get a good night's sleep with her; she seems to move about a lot, and refuses to be under the blankets. If a blanket is put over her, she will kick, struggle and scream until she gets out from under it. Not getting a good night's sleep really makes my husband not happy. If we try to get Hannah back to sleep at night without giving her milk, she screams and screams and screams. Generally, we give in and feed her. Sometimes after feeding her, if she did not go to sleep on the breast, we can put her on the bed and bounce the bed up and down or pat her to get her to sleep.
So, finally, my questions: Is it normal for a child this old to wake up this much at night? Is there anything we can to to get her to sleep through the night? Some have suggested that weaning (or perhaps night-weaning) would help, but breast milk is such a great "secret weapon" for calming a tired, hungry, upset child that I don't think I could do without it. Maybe she sleeps too long at night for going down easily; she goes to bed sometime between 8 and 10 pm, and wakes up usually around 9am (I know this sounds late, but we are on daylight saving, so it's really only 8am). She cannot go without a daytime nap, as otherwise she is extremely grumpy by 5pm. We have a play pen, which I sometimes set up on her mattress and put her in it when I know she is tired but she just will not go to sleep. I will go and do something else, as otherwise she just wants to get to me or else will try to play with me (she hates being imprisoned). Within 5 minutes she has usually screamed and made herself so upset that the vomits (as a result I resort to this only when I am feeling completely frustrated). However, she has then expended so much energy being upset the she usually goes to sleep as soon as she is cleaned up and given breast milk.
I found a device on the internet called the lullabub, which you can put under a cot to rock the cot. It can do various things like car ride, mother's heart beat, etc. I showed it to my husband, but he said he thought that the problem was a discipline one, not a cot-needing-to-be-rocked one. He said she knows what we mean when we say lie down, and she's just being disobedient. (At this point I must say that sometimes when I feed her, she spits it out, lies still for some time, maybe a couple of minutes, and then as she does not go to sleep, she gets up and starts moving.) I'm not so sure it's a discipline problem. I have been thinking that maybe I need to wake her up earlier in the morning so she is more tired at nap time. If she naps late, she won't go to sleep at night.
Also, would you recommend spanking for not lying still at nappy change?
What about seeing being told to come have a nappy change as an excellent opportunity to have a game of "Hug, hug", where Hannah runs and Mummy chases and catches and gives a big hug. She plays this game on other occasions as a game. However, she knows that I will come after her to do the nappy change, so she deliberately does not come, and when I come to get her, she says "Hug, hug" and runs off. I like that she wants to play with me, but she needs to learn to obey me. I'm not sure what the appropriate response is here. Often she will not lie down for nappy change even when she's not playing "Hug, hug." Occasionally she will voluntarily lie down and ask for a nappy change.
When we've been outside doing the washing, and it's time to come inside, she will also wait near the door until she knows that next I will try to take her inside, and then she says "Hug, hug" and runs off. Generally I have to pick her up and carry her in as she won't come voluntarily (occasionally I am pleasantly surprised with compliance). She used to put on a big tantrum at this and kick and scream. I would dump her on her bed and ignore it. Now she just accepts that she's been brought inside.
Also, she often wants me to come with her when inside to play with/investigate/get something. If I don't come with her, she puts on a tantrum, running into the wall and screaming. This is annoying especially when I am trying to eat dinner (she's finished hers).
Thanks in advance for your help.
Yours in Christ,
Susan
Photo by Joey Contreras Jr.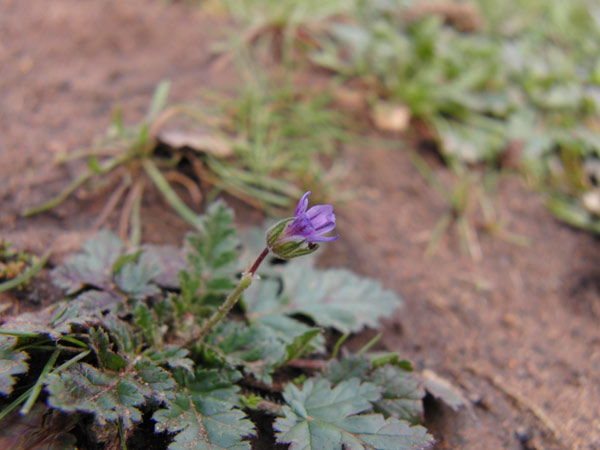 March 22, 1009.

Dear Susan,

Thank you for taking the time to write to Gerald and myself.

Regarding Gerald's work, I read your e-mail to him. Thanks for sharing your thoughts with us regarding your own research on the topic. Gerald has spent his life involved in biblical research. He is aware of the books you mentioned and has even met some of the authors personally. Since you have an interest in his work, I would strongly recommend you purchase his books and back issues, especially his new book, "The Exodus Happened 2450 B. C." which is getting some very good reviews at the present time. It is a very easy read, but not based on theology but scientific research. I think you would really enjoy it. All the questions you asked are answered on his website, either in back issues, or in the correspondence section. I think you will find his answers quite satisfactory.

Regarding your 19 month old daughter. I would urge you to read all the information I have posted on my website, in the correspondence section as well as purchasing the back issues that deal with the family bed, discipline and child raising in general. There is an index for each back issue, as well as a search on the site that will lead you to the back issues that you will find most helpful. (The back issues are only $1.99 each.) All of the questions you have asked are answered there and they are there as a ministry to moms just like yourself.

Thanks again for writing.

Blessings,

Helen

April 8, 2009

Hello Helen,

Thanks for writing before. I have been reading many of your back issues. Well, we finally have a king size bed of sorts; we pulled our queen size mattress to pieces since it was giving us sore backs, threw away the springs (which stunk really bad, probably from some chemical put in at manufacturing), and used the pillow top and latex out of the mattress along with some foam and woollen blankets and quilts we already had to make up a king size bed on the floor. Now we all fit and I'm getting a better night's sleep. Thanks for your encouragement. (We did look at buying a new king size mattress, but the ones we like are $4,000, and we're trying to pay off a mortgage on a low income, although we did save a lot while I was working so are ahead in our repayments.) Now my husband can sleep with us and still get a good night's sleep, so that's good. I wish I had known what I know now about the family bed and that toddlers don't sleep through the night when Hannah was born, but I guess there's nothing like experience to be a good teacher.

I have an acquaintance who has a slightly younger child than mine who would not sleep; her boy wouldn't even sleep in bed with his parents. She ended up going the "leave him to scream" route, which she found extremely difficult, but she couldn't cope with the lack of sleep any more. Now he sleeps through the night. However, I'm very curious as to why on earth he wouldn't sleep in bed with the parents. If you have any time, do you have any idea why he wouldn't sleep in bed with his parents? My friend said last time I saw her that she's thinking of going gluten free as gluten causes an upset tummy and burping for her. Maybe he didn't like gluten in the breastmilk? (He's on formula now, and has been since about 1 year old.)

Thanks again.

Love,

Susan

April 10, 2009

Dear Susan,

What wonderful news! I'm so glad to hear that things are going better and that you can now all sleep together in peace! Some men want their wives all to themselves, without little ones in their beds, and what they get is shattered woman who feels that she depriving their babies. What husband wants an emotional basket case in his bed? Isn't it nice when everybody wins?!

Good for you for making the change in your sleeping arrangements. We all make mistakes and wish we could retake the past, but be grateful that you learned how to meet your babies needs while she is still relatively young.

It is hard to evaluate what someone else is doing without actually talking to her and getting more information. I have never heard of a baby who was kept by the mother's side from day one and yet who refused to sleep with the mom. We don't have the whole story here is the problem.

I don't know much about gluten and breastfeeding problems. But it could easily be researched on La Leche League sites.

I'm so proud of you!

Love,

Helen

March 19, 2009

Dear Helen,

Stumbled across your website, as I looked for encouragement as an at-home mother on-line! Actually, I know there are no coincidences in this world!

As a motherless daughter (for almost 16 years now), it can be challenging remaining home in a world that devalues this career choice.

I have three children, ages 16, 13, and 8-and at 41 still find myself longing for more-yet health issues did not allow for this!

My best friend, is an at home mother of 5, yet sadly,6 years ago, due to a change in her husband's job position, now lives all the way down in Georgia, while I am in Maine! We were such a support for one another when she was here, and we try to be still-yet the miles present a challenge.

Currently, my husband has been laid off, yet I know we have been led through many crises, thanks be to God. Of course, I am concerned about where I should remain, as the world has such a different view than I have.

I was blessed until the age of 25, with a stay home-mom who was my world. Not one day of my life do I not miss her presence. Shortly after losing my mother, my father had a heart attack and passed away 5 months later. They were 54 and 57 respectively.

If you have time to a-mail, I would be most grateful. I need the encouragement at this time and haven't found much support from the extended family I have, or the friends I used to teach with that have remained behind in their careers.

I have been home for 9 years now, and honestly, in some ways, have never worked harder.

Again, if you have time to write, I would so appreciate it.

If not, I understand and wish you the best with your lovely family!

Sincerely,
Pauline





Photo by Joey Contreras Jr., September, 2008.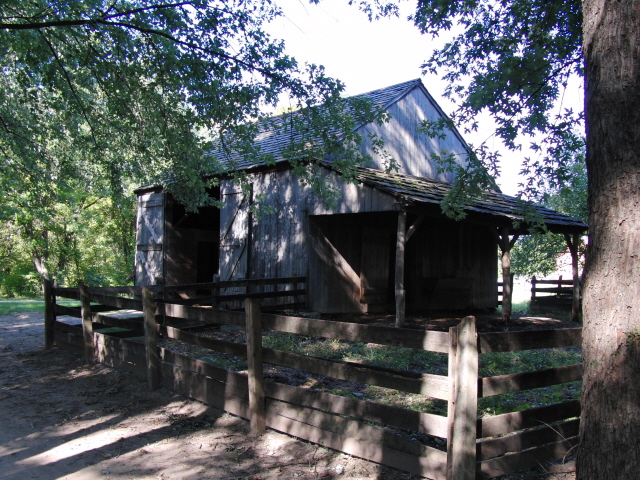 Dear Pauline,

I'm so glad God brought you my way! Yes, it can be very discouraging to be a mom at home; the most important job in the world! With those lovely children you are rich! God knows what He is about; enjoy the children you have been blessed with!

It is hard when dear friends and support move away. It can be very lonely.

God will take care of you and your family during this job crisis. Trust Him and don't try to solve it yourself. Just support your man, be frugal and wait for God to act.

I'm so sorry about your mother. How you must miss her. How hard to lose your parents so young. But do be grateful for what you did have during your formative years! Not all of us have been so priviledged. Yet God can use this in your life to be more merciful to those who hurt and to reach out to others who are hurting. It is easy to feel sorry for ourselves, but do not do it. Reach out with love to your family, neighbors and friends. I found that to have friends one must show himself friendly. Look for that older "mother" out there whom you can learn from. There are lonely older women looking for daughters to mother too. Don't be afraid to be the first to reach out. If you wait for others, it may never happen.

I urge you to read Elisabeth Elliot (lots of free stuff on line here http://www.elisabethelliot.org/newsletters.html.) She has blessed my life like no other! She taught me that happiness is in sacrificing our lives for others.

Yes, the mom at home is greatly under-rated and under appreciated. I too work very hard, but it is a happy work and a gift to our families! We are reaping heavenly reward.

I am happy to write to you and wish to be a friend and mentor to you. Thanks for your encouraging words. If you have not had a chance to read my back issues on www.themotherscompanion.org, please do so. They are very cheap, just enough to keep our website running. There is much there that I think you could benefit from.

Do write again, if you wish to.

Blessings, and prayers,
Helen






Photo by Helen E. Aardsma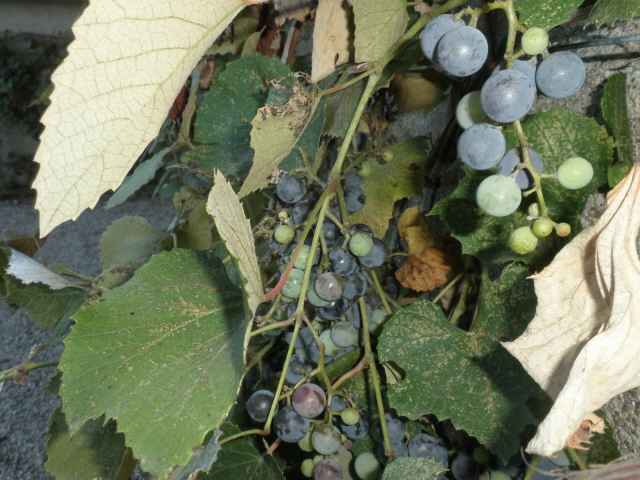 September 27, 2010.

Hello,

My name is Trixie. I'm writing because I'm greatly concerned for my 11 year old son and I've been searching the web for answers. I came across your website and I thought maybe as a Christian mother of 10 you would have some recommendations. For approximately one week now he has been falling asleep and waking up around 1 am. He then has great difficulty falling back to sleep, taking sometimes hours, crying and very anxious because he can't sleep. He's even asked that we give him medicine to sleep. This has happened maybe once or twice in the past, but usually after one night, the next night he sleeps fine. However, it's been 7 nights. I believe his anxiety now about not sleeping is what's keeping him awake.

I've been speaking to him about some anxiety he may be having with school but that hasn't seemed to alleviate his anxiety. I'm going to speak to my pediatrician, however, I thought perhaps you could offer some good suggestions.

Thank you.

Trixie




September 27, 2010.

Hi Trixie,

If you could answer a few questions, I may be able to help you to think through the possibilities.

Does he drink caffeine in sodas, tea, chocolate?

Is he in public school? Does he talk about fears at school? Does he have friends there? Does he seem well adjusted at school? Does his teacher seem to think he is doing fine in school?

Does he sleep by himself? Does he know he would be allowed in your room to sleep on the floor if he is afraid?

Does he watch scary movies? Is he on any medication?

Does he seem well adjusted at home? Do you have a good marriage? Are you a single parent? Does he have siblings? Does any one else live at home?

Does he talk to you freely about most things? Could there possibly be someone who is threatening him because of something, like sexual abuse? (I hate to broach this subject, but I have counselled others who later found out that an uncle or neighbor was involved in sexual abuse with their child and threatened to kill the child if he told.)

Does he have time away from you when he is not being supervised? Do you work outside the home? Is there always an adult around to keep an eye on him? Is he ever babysat?

What kind of anxiety is he having about school?

Thanks.

Helen




September 28, 2010.

Dear Helen,

Thanks Helen for responding so quickly to my e-mail. I'll try to give you a brief synopsis so you have a better picture.

My husband and I are active believers in our faith, active in our church. (I was raised in a pastors home.) I am a social worker myself and my husband is a physical therapist. Christian is 1 of 4, he's a twin. His anxiety as school started last year during recess because his friends seem to constantly argue amongst each other and require him to be the mediator. He is a very sensitive and kind boy and they constantly put him in the middle because he's fair. It was addressed by teachers last year but has begun this year. He has lots of friends in school and does very well academically.

Some good news......I spoke with the school social worker today and she has agreed to get involved with this group of boys and to attempt to change some of the rules that go with recess so as to minimize fights. She additionally put Christian in a friendship group where they can work out conflict and has given me the name of a therapist if he wants to talk to a neutral party about his anxiety.

Christian has always been a home body. He's never left unattended or with people I do not know and trust, though I, too, have questioned him regarding people threatening him or being inappropriate. Christian is very intelligent and has always been a thinker so it's not surprising that when he began waking up at night, his mind turned on and couldn't turn off. The more this happened, the more anxious he became and it almost became a self-fulfilling prophecy. We've always had a bed time routine for our children and he's not a caffeine drinker at all....water and milk are his favorites.

After speaking with his pediatrician and following her directives, I'm happy to say that Christian did do very well last night. He woke once at 11pm and came into our room where we allowed him to rest for a few minutes. He fell asleep there and at 11:30 we brought him back to his own room. I just encouraged him to sleep until he woke up and then if he did wake up to come to my room. He slept till 7:30 am!!!! He (and my husband and I) were sooo happy.

I guess I just wrote to you because I don't have a mother or mother-in-law that is available to me. So I've basically raised my children without the help of a mom. And sometimes, even as an adult, a girl just needs a mothers advice, often the most simplest yet encouraging words. Your web site looked so kind and I completely agree with the scripture in Titus that the older women should be mentors to the younger. (As a matter of fact, I had spoke at one time with church leaders about us starting some form of mentorship program like that.)

Anyway, thanks for taking the time to listen and respond. Any encouragement, thoughts or advice you have will be appreciated.

Sincerely,

Trixie.




September 28, 2010.

Dear Trixie.

Thanks for giving me all this information. It helps me understand your situation. See my response in CAPS.

DOES CHRISTIAN GO TO A CHRISTIAN SCHOOL?

BEING AS YOU ARE A SOCIAL WORKER, YOU ARE QUITE FAMILIAR WITH ANXIETY ETC. SINCE YOU ARE A PROFESSIONAL AND DEAL WITH BIG PROBLEMS KIDS HAVE, YOU PROBABLY HAVE TO BE MORE CAREFUL THAN SOME OF US OTHER PARENTS. DON'T MAKE TOO BIG OF A DEAL OF ALL THE ANXIETY, LABELS (HE HAS SEPARATION ANXIETY, HE CAN'T HELP THAT HE GETS D'S, SAID RIGHT IN FRONT OF THE CHILD, ETC.) GETTING HELP FROM THERAPISTS, ETC. YOU DON'T WANT TO GO OVERBOARD AND MAKE YOUR CHILD HAVE A BIGGER PROBLEM THAN HE ALREADY HAS BY TALKING ABOUT HIS PROBLEM ALOT IN FRONT OF HIM AND YOUR OTHER CHILDREN OR HIS FRIENDS, ETC, MAKING HIM GET PROFESSIONAL HELP, ETC. I WOULD PLAY IT DOWN IN FRONT OF HIM.

ON THE OTHER SIDE, YOU DO WANT TO BE CAREFUL TO GIVE HIM TIME TO TALK ABOUT HOW HE FEELS ABOUT THINGS, BUT NOT TOO ANALYTICAL, NOT TOO FORCEFULLY, NOT TO DRAMATICALLY ON YOUR PART, IF YOU KNOW WHAT I MEAN. JUST CASUAL DINNER TIME CONVERSATION. YOU MAY FEEL IN YOUR HEART, DISTURBED BY WHAT HE IS GOING THROUGH, BUT DON'T LET THAT SHOW BECAUSE KIDS ARE GREAT AT PICKING UP OUR ANXIETY AND MAKING THEIR OWN ANXIETY MUCH BIGGER IN THEIR MINDS THAN IT REALLY IS. THIS PROBLEM WILL PROBABLY GO AWAY ON ITS OWN, NATURALLY, SO DON'T MAKE HIM THINK HE IS SOME KIND OF DISTURBED KID OR SOMETHING. I'M NOT SAYING YOU ARE DOING ANY OF THESE THINGS. I DON'T KNOW, BUT THIS IS THE SAME ADVICE I GIVE MANY PARENTS.

YOU SEEM TO HAVE THE BASE COVERED REGARDING HIM BEING ALONE WITH STRANGERS, ETC. BUT YOU MUST REALIZE THAT EVEN IF YOU QUESTION HIM, IF HE IS BENG THREATENED, HE WON'T TELL YOU. IT JUST COMES OUT IN BEHAVIOUR, OFTEN AT NIGHT WHEN THEY ARE MORE FRIGHTENED.

EVEN AS ADULTS WE CAN GET OURSELVES WORKED UP WHEN WE CAN'T SLEEP AND ALL THE LITTLE MOLE HILLS BECOME MOUNTAINS. KIDS ARE NO DIFFERENT.

YOU MADE THE RIGHT MOVE BY LETTING HIM COME INTO YOUR ROOM. GOOD FOR YOU!!!!!

HE NEEDS TO KNOW THAT IF HE NEEDS YOU, YOU WILL ALWAYS BE THERE. JUST KNOWING HE CAN COME INTO YOUR ROOM AT NIGHT, ANYTIME, THAT OFTEN MAKES THE PROBLEMS GO AWAY. CHILDREN HAVE WILD IMAGINATIONS, ESPECIALLY SMART KIDS. IT ALWAYS SURPRISES ME WHAT KIDS COME UP WITH. THEY ARE NOT ADULTS. THEY ARE NOT AS ABLE TO PROCESS THINGS LOGICALLY LIKE WE CAN. I HAVE A FEAR OF TORNADOES. MY HUSBAND IS A PHYSICIST. HE CAN LOGICALLY TELL ME ANYTHING HE WANTS, BUT I STILL GET REALLY SCARED AND IRRATIONAL. KIDS ARE KIDS AND CAN'T EVEN PROCESS LOGIC LIKE WE CAN. THEY AREN'T ADULTS YET AND WE SHOULDN'T EXPECT THEM TO ACT LIKE ADULTS.

YOU MAY FIND THAT HE WILL TAKE A WEEK OR TWO AND WILL PROBABLY START SLEEPING THROUGH THE NIGHT AGAIN. BE PATIENT. THEY DO GROW UP AND LEAVE YOU SOMEDAY AND YOU'LL MISS THE NIGHT TIME VISITS. :)

GOD BLESS. FEEL FREE TO WRITE, ANYTIME.

HELEN E. AARDSMA.




Photo by Helen E. Aardsma