Update (2007)
It is a cold, dreary, late November day as I begin to write. The harvest is in, and the freezers and canning shelves are bulging. I am ready for winter. I have been busy this morning wrapping gifts and getting parcels in the mail.
It feels and looks like early winter all around me. The garden is bare and sad looking. It has been rainy here, making for lots of mud, both outside and inside! I keep sweeping up mud and throwing it outside, but it relentlessly keeps coming back in!
The children got up early to work in the garden while the surface of the ground is frozen. Following a nice breakfast of fresh, warm, cranberry bread (recipe below) they headed out to cut down dead asparagus plants and move manure onto several garden sections. At this time of the year the ground freezes each night and thaws by noon each day, turning it to mud and halting garden work for the day.
And now the children have just come tumbling back into the house, their cheeks red and their appetites raging.
The newly cut asparagus ready to burn. My bare garden in the background. Fall 2007 (photo by Helen).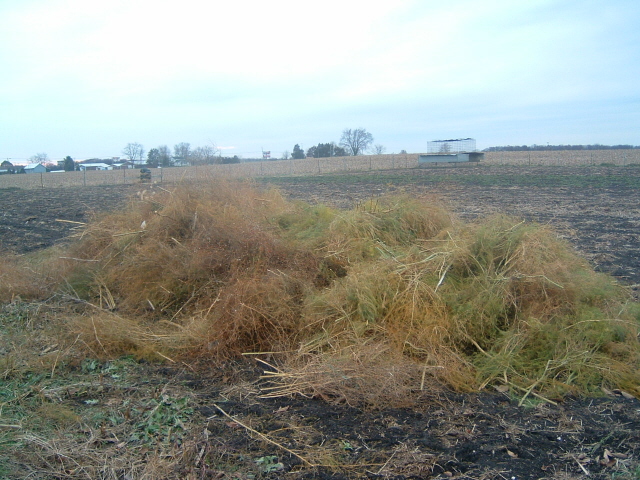 Good night little garden,
sweet may thy slumbers be!
We leave thee to the tender care
Of the still earth and brooding air.
As when the mother, from her breast,
Lays the hushed babe apart to rest,
And shades its eyes and waits to see
How sweet its waking smile will be.
Anonymous
Mulberry Lane Farm is definitely closed for the year! December 2007 (photo by Rachel).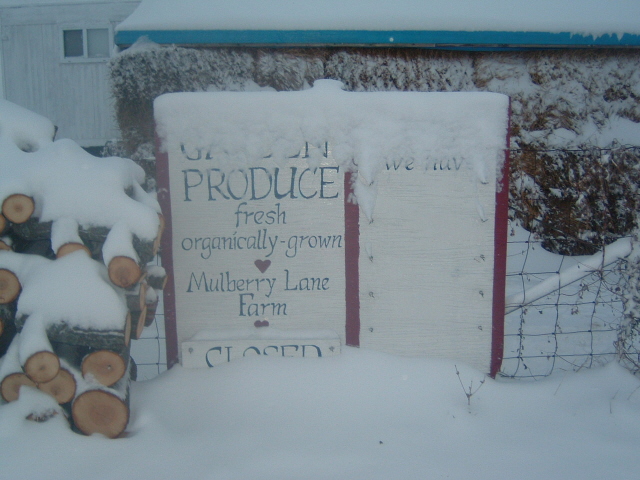 And now it is time to write another update to you, my dear friends! How can it possibly be time for this already? Time seems to fly faster and faster as I get older...
But never mind that; I'm excited to share all that God has done for us this past year. Put on the tea pot...!
Rachel's child's tea set given to her by my dear friend, Eldora. Spring 2007 (photo by Rachel).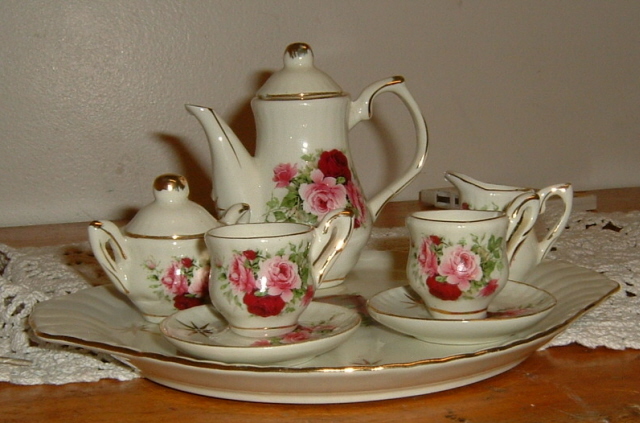 This past year has been one of the most amazing, difficult, joyful years of my life. God has been faithful to me yet again. I can't wait to tell you all that He has done for us this year.
Some of my country decor. Summer 2007 (photo by Helen).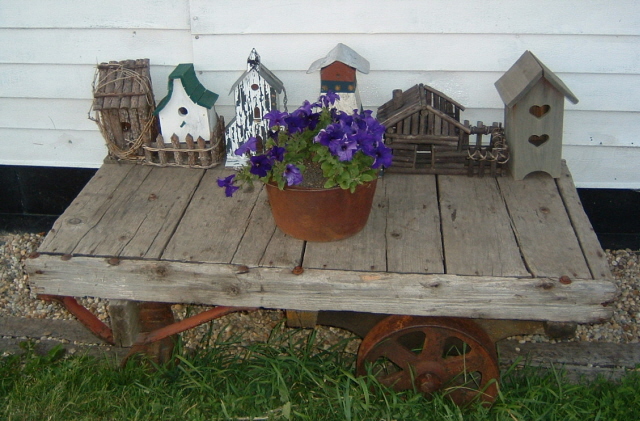 Five Down, Five to Go
I am finding deep satisfaction with the five remaining children at home. They are happy and obedient, making my job easy. No, they aren't perfect, but my troubles consist mainly of too much bouncing, giggling, talking, etc. --- not much to complain about, for sure.
Gerald and I sometimes jokingly refer to these five as our "second family". We learned a lot with our "first family". Hands-on experience results in improved performance in whatever we do, and parenting is no exception.
The children viewing the full moon through astronomy binoculars. Summer 2007 (photo by Helen).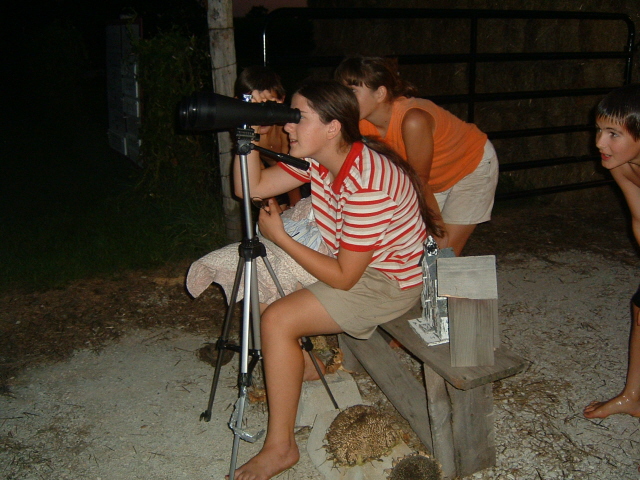 My days are full of "Mom?" (too many to count), wild flower bouquets, hugs, sweet homemade music, wild raucous laughter, late night Scrabble games, "What can I do to help, Mom?", "Thanks Mom!", and "Read another chapter, Mom!". Just so you don't get the wrong idea, my days are also full of already-mentioned mud, smelly laundry waiting to be washed, constant sticky, dirty floors, piles of clean laundry to fold and put away, "I'm hungry--what's to eat?", constant interruptions, flat bike tires, ..., dishes, dishes, and more dishes.
This year I framed some old postcards my mother sent me when Jennifer was born.
Fall 2007 (photo by Helen).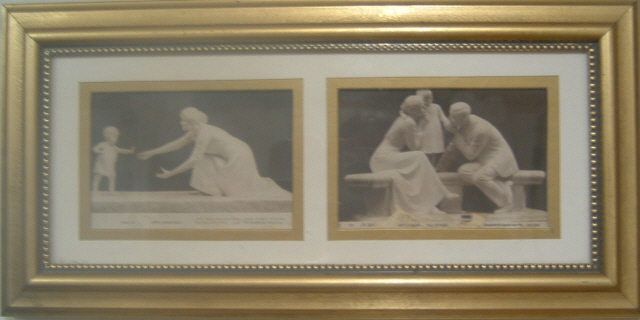 Caleb. Summer 2007 (photo by 'Beka).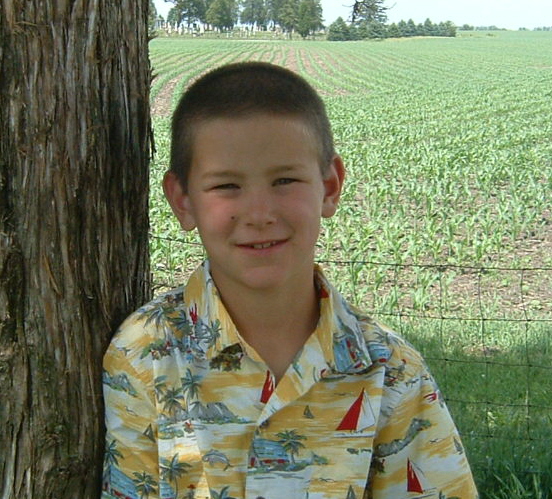 Caleb (8) is finally reading well enough to get through his reading lesson in about 5 minutes. He has made swift progress in the last year! He loves to tell me long, detailed stories about his various interests. He is always saving up his pennies for various things. (Yesterday he said he wanted to buy himself a laptop!) He now has the job of collecting the eggs and getting them ready for sale. He gets paid a small amount from Matthew, owner of the chickens, for doing this. He has shown that he is responsible and able to handle more jobs. He is a good helper to me, though he frequently gets distracted after finishing a job and I have to go find him. He is either skipping in the living room or out in the garage putting together another wood project, complete with lawn mower wheels! He tries to clean up after himself, but, well, you know how that goes!
I taught Caleb to use my sewing machine this year. He made his first hankie and mailed it to his Grandma Aardsma for Christmas!
September 2007 (photo by Helen).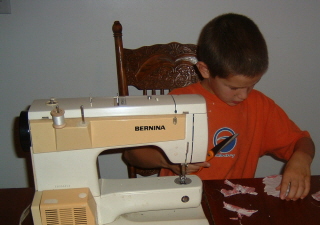 Timothy. Summer 2007 (photo by 'Beka).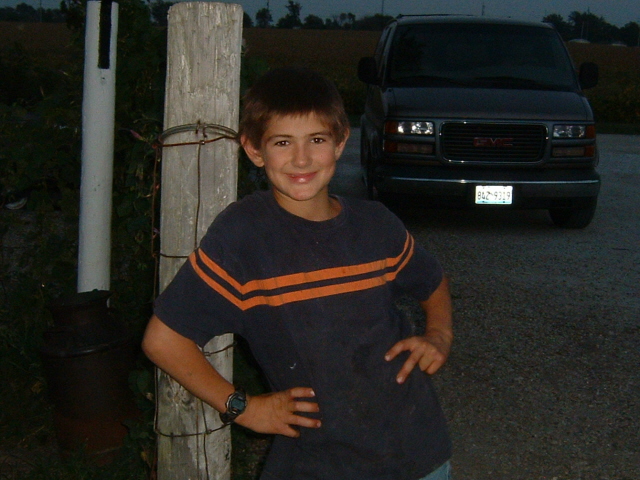 Timmy (10) is growing like a weed and eating me out of house and home. His looks are changing daily it seems; somewhere between boy and man. He continues to read his Bible faithfully every night. I allow him a half hour per day to work in the garage on some project. He is getting pretty good at it, and learning more all the time. He is becoming more and more capable on the homestead. This year he learned to drive the 18 HP Craftsman yard tractor. He also learned to till the garden with the big Troy-Bilt Horse tiller. He was so proud of his new manly ability, and rightly so. It is neat to see the boys copy their father in their masculine roles. I am so thankful for a great role-model in Gerald!
Tim for Anne Geddes! (Photo by Helen.)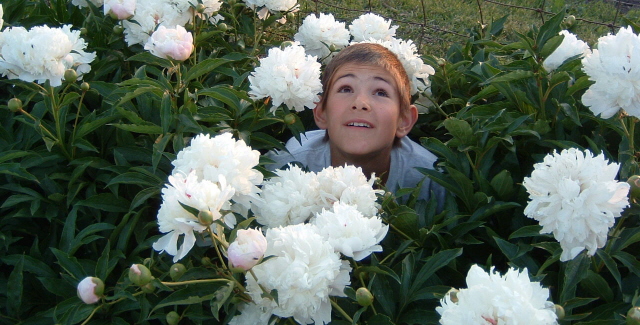 Rachel in the pheasant reserve. Spring 2007 (photo by Helen).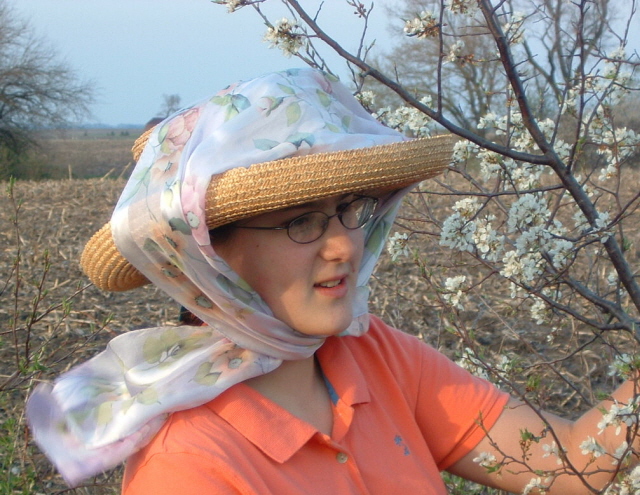 Rachel (13) is becoming quite a capable writer. She continues to write The Aardsma Weekly (see link in the navigation menu bar at left) and has quite a following. Rachel is becoming computer savvy, even teaching herself how to put together digital movies. I hope to be able to post some of her projects on my website some day. Rachel recently began clarinet lessons, with the teacher coming to our home every week. Rachel helps pay for the lessons by selling bread and baked goods. Both Rachel and I are already dreading the day when 'Beka goes to college, three years away. Rachel will be lost without her as they are best friends. To hear them laughing, singing, constantly chattering, cooking together, and now playing clarinet and piano together brings great joy to my heart!
Rachel and her tabby cat. Thanksgiving 2007 (photo by 'Beka).
'Beka. Spring 2007 (photo by Helen).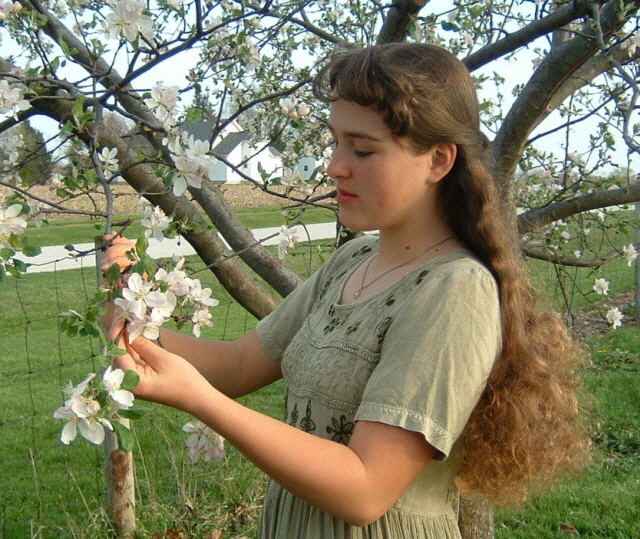 'Beka feeding the 'starving' calves. Summer 2007 (photo by Helen).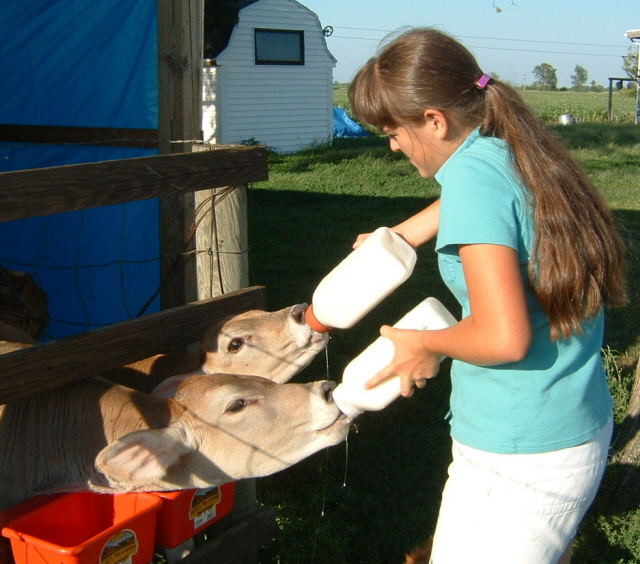 'Beka (15) continues to excel in her piano ability. We all love to hear her play. 'Beka has learned to play some beautiful music from several operas, and it is delightful to hear Rachel sing with her! The family is blessed by their music! 'Beka likes to do puzzles, a trait she gets from her Dad. Over the winter months we usually have one going on a small card table in the living room. My living room is not exactly home and gardens (the understatement of the year!), but a puzzle-in-the-making matches well with our educational theme of time lines, Bible Lands maps, and Caleb's hand-written ten commandments wall decor! 'Beka handled her homestead responsibilities very well this year. She has good management ability with the younger ones, which keeps me from having to solve the constant issues which arise as the children work together. She was Gerald's much-acclaimed 'right-hand-man' for several weeks this summer, replacing the roof on our house. (More about that below.) My heart is already breaking when I think that she will be gone in three short years. She is currently planning on attending BJU.
Matthew with friends. Fall 2007 (photo by Helen).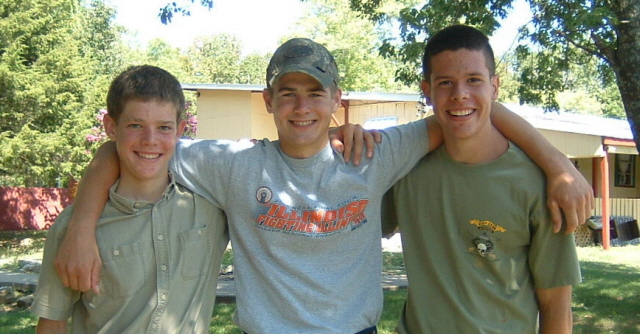 Matthew (17) got his second deer with a shotgun---an 8 point buck---just last week. He has also been bow hunting and hopes to get another two deer over the winter months. This is a much more time-consuming hobby, as it is much harder to get a deer with a bow than a gun. He has to schedule his hunting time around other higher priorities as he prepares for his SAT and keeps up with his school work and yard work. His customers are always clammering for their grass to be mown, leaves to be raked, etc. He is in high demand!
Matthew has many to-do-lists posted in his room! Fall 2007 (photo by Helen).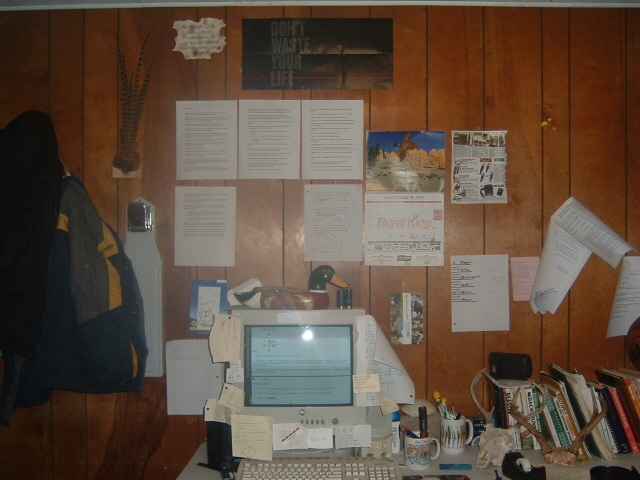 Matthew continues to grow in the Lord, and he brings Gerald and me great joy in doing so. As the Judeo-Christian imperitive to "honor thy father and thy mother" disappears from the American cultural landscape, I am so glad to have a teenage son who is not of the increasingly prevalent type which "curses his father, and does not bless his mother" (Proverbs 30:11). Matthew still wants to be a vet and enjoys his work at the local vet clinic. He occasionally gets to go out on farm calls with the vet, which has so far only confirmed his desire to be a vet himself. I think he will be a wonderful vet, should God continue to lead him in this direction. He is a real people person and animal lover. He is mature and responsible and has earned an excellent reputation in our community. Between his jobs and his hunting Matthew is away from home much of the time now and we miss him. It causes me heart pangs to realize that another child is getting his wing feathers and is almost ready to fly. But Matthew may be living at home longer than most, as he plans on attending the U. of I. just forty minutes south of here for undergraduate and then vet training.
Matthew practicing for bow/deer hunting season.
Summer 2007 (photo by Helen).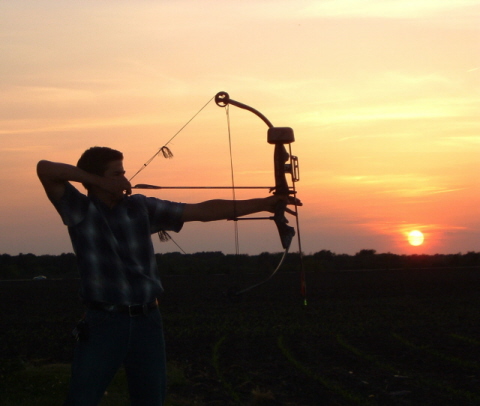 The five older children continue much the same as last year with two changes; we have added two new family members. In June we added another daughter-in-law, Kathryn. She married our son David. In July, a new granddaughter, Keira, was born to our son Mark and his wife Jenn.
Nathan holding newborn Keira. July 2007.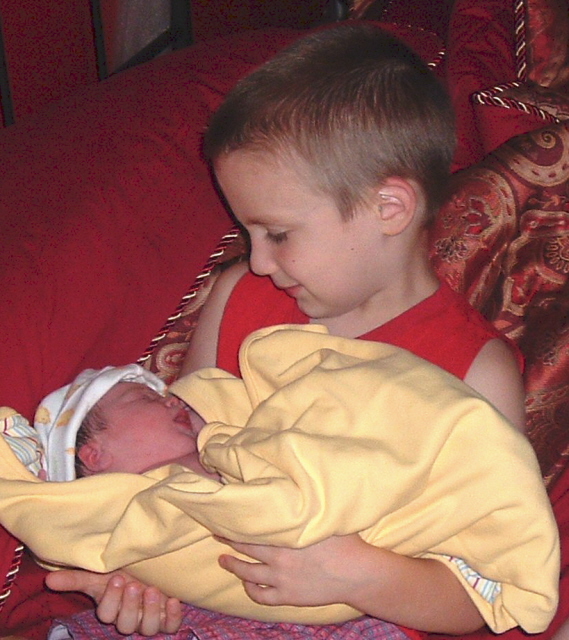 Kelsey (Laura's), Allison (Mark's) and Katie (Jennifer's) at David's wedding. June 2007 (photo by Helen).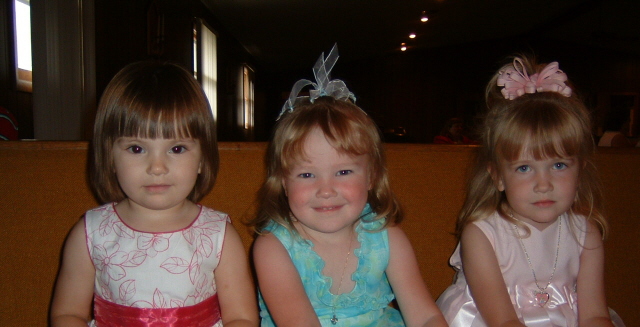 David's wedding was sensible and very sweet. David ushered me down the aisle to my pew, as tears streamed down my cheeks. I told him I loved him, in a quivering voice. I was so proud of him! David has been a sweet son to me, showing me honor and respect in our various interactions regarding the wedding. Kathryn is a fine, Christian girl whom I have grown to love more and more in recent months, and we are so delighted to have her in our family! It was a precious time for Gerald and me as the whole clan sang our traditional "Welcome to the Family" to Kathryn at the reception. I had a lump in my throat! It was nice to get to know Kathryn's family better during our various interactions at showers and dinners.
So another child is "officially" launched, and another daughter-in-law is officially added to our family, bringing the total to twenty-four.
My whole family at David's wedding. June 2007 (photo by Laura (Aardsma) Gioja of Center Street Productions).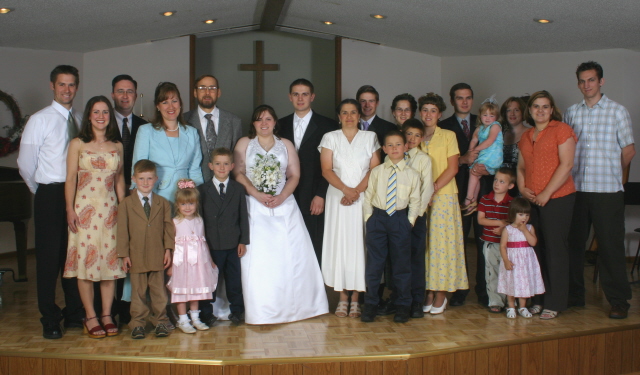 Helen putting on Eldora's corsage at David's wedding. (Photo by Rachel.)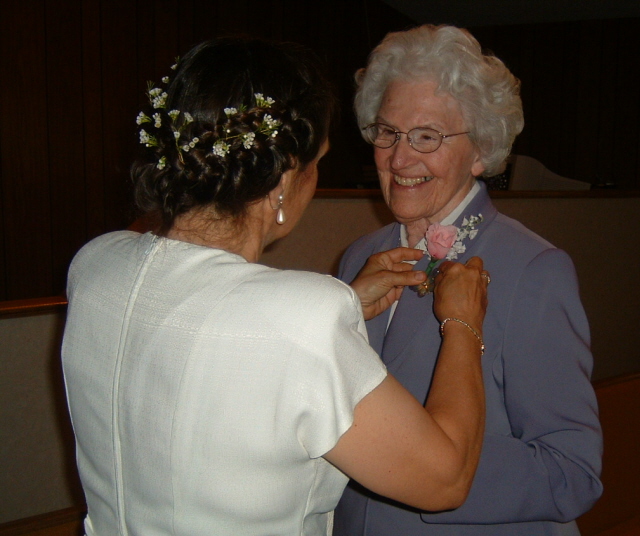 We did not have a family reunion this year due to David's wedding, but we did have a chance to get together at the dress rehearsal dinner and the wedding. There is something very special about all being together that is hard to put into words. Only mothers with grown children away from home can understand what I mean. Sadly, it doesn't happen very much anymore as our family grows so large and spreads farther and farther apart. When we do have opportunity to all get together, my heart soars! Plans are in place, God willing, for a family reunion in September of 2008 as is our usual custom. I look forward to that day with great joy and anticipation! I am already making my lists, saving my pennies and thinking of fun things to do together.
Visiting with Jennifer's family when she came to David's wedding. June 2007 (photo by Gerald).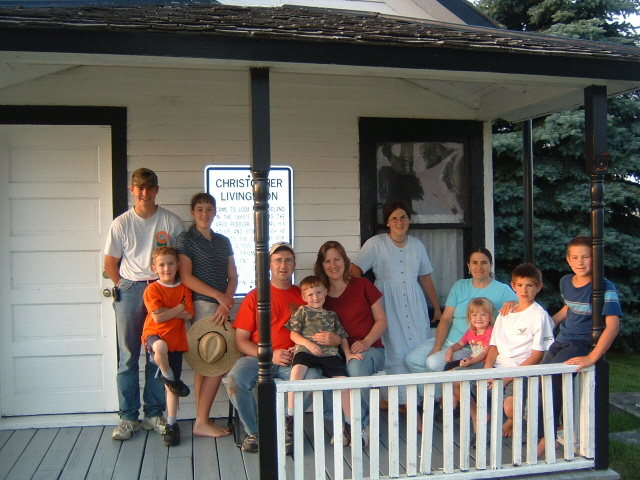 My "shy" sunflower! (Photo by Helen.)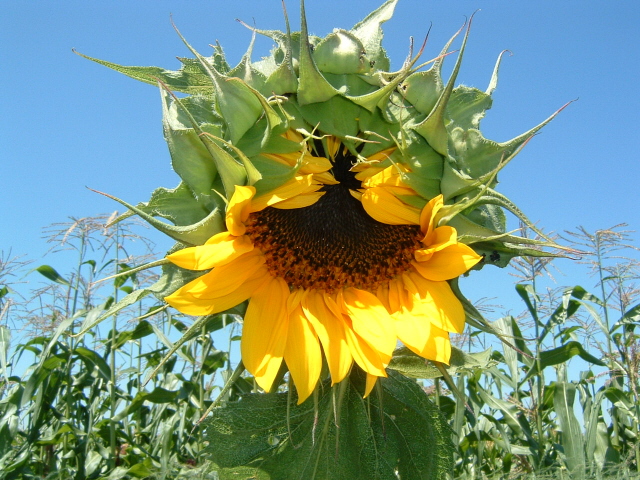 Gerald
A big "thank you" to so many who wrote last year and said you were praying for Gerald. God has answered those prayers!
I could write chapters about Gerald's health problems this past year, but I won't. Gerald's illness has been the hardest thing that I have had to face in my life to the present time. This has been a rough time for the five children at home as well. But I believe it was hardest of all for Gerald to bear.
Gerald helping unload our new metal roofing supplies. Summer 2007 (photo by Helen).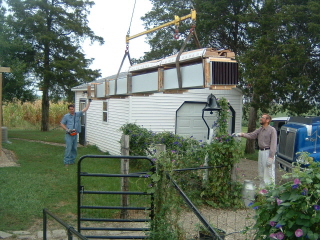 Here is a very short version.
We finally got a correct diagnosis for Gerald early in January. By this time Gerald was unable to do many things for himself, such as getting dressed or getting up from a chair. He even had difficulty feeding himself. I feared that I might lose him.
The correct diagnosis resulted from a visit to a neurologist. We learned that Gerald has Chronic Inflammatory Demyleinating Polyneuropathy (CIDP). This is an autoimmune disease that attacks the nerves in the body. The cause of the disease is not well understood, and there is no cure for it. But the disease can be controlled with daily doses of oral prednisone.
Gerald started in January with very high doses of prednisone and saw immediate results. He quickly began to improve and after several months was almost back to normal. He has had monthly doctor appointments to watch for secondary diseases (diabetes, osteoporosis, etc.) which can result from side affects of the prednisone, as well as to monitor regression of the symptoms of CIDP.
Being on prednisone was a learning experience for all of us. The side affects were terrible. The high doses of prednisone caused personality changes in Gerald which he couldn't help. We all grew in patience and forbearance with each other. "The cure is worse than the disease" seemed almost true at times! Our neurologist assured us that Gerald was doing extraordinarily well with the high prednisone---some patients wind up "being admitted" just to deal with the psychological side-effects, he told us.
Gerald and 'Beka relaxing together. Fall 2007 (photo by Helen).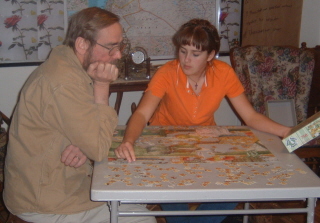 It was wonderful to finally know what the problem was, even if we had to learn how to deal with CIDP and its medication as a family.
Gerald is almost off the prednisone now, and he says somedays that he is even beginning to feel normal. His wonderful sense of humor is returning!
This is our greatest praise to the Lord this year! The doctor is watching for signs of another attack, which happens once every several years for most people with CIDP. Thank you for praying for Gerald. God has been gracious and has answered your prayers! Please pray that Gerald never has another CIDP attack. God is able! If Gerald does have another attack, he will need to go back on the prednisone treatment again. My heart sinks to my stomach at the thought. We take one day at a time.
Gerald teaching the boys to program. (Notice my "new" walls!) Fall 2007 (photo by Helen).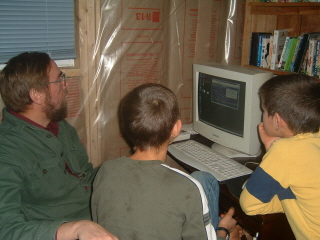 With Gerald's increased health came the opportunity to deal with a real necessity. The roof on our home was leaking in lots of places! The project was way bigger and more expensive than anticipated, as the solution of one problem uncovered numerous other problems. Gerald and Rebekah worked on the roof (and electrical wiring, and attic insulation, and exterior walls, and siding) together over the summer, and I now have a new metal roof, new wood siding and new windows. This has made quite a difference to the comfort of our home---no more water dripping from ceilings, and no more snow drifts in the boy's room near the exterior wall! My home is so much warmer, and I expect we will save fifty percent on our heating and air-conditioning bills this next year. I'm so grateful to the Lord for my "new" home!
Gerald and I continue to grow in our love for each other. He remains my best friend. I would rather be with him than anyone in the world! We love the quiet of our home, our reading times together, our laughter, our walks, our talks, and just being together. He is the best thing, next to Jesus, that has ever happened to me. I am so grateful to tap into his wisdom and knowledge. He is my constant counselor.
The Bible says that "the fear of the Lord is the beginning of wisdom" (Proverbs 9:10a). Gerald's mother says that he was wise beyond his years even as a child. And I know the reason is because, above all, he fears the Lord. And now that he is reaching his mid-fifties his wisdom is wide and deep. He has never sought after material gain. Rather, he has devoted himself to finding true answers to longstanding difficulties at the interface of science and the Bible for the sake of God's people. "How much better it is to get wisdom than gold! And to get understanding is to be chosen rather than silver" (Proverbs 16:16). After this summer's extensive renovations I have several rooms that need drywall put up, and a laundry room that has a bare plywood floor. I drive an older vehicle, and I don't get holidays to Hawaii---but oh, I am rich!
Beka in the pheasant reserve. Spring 2007 (photo by Helen).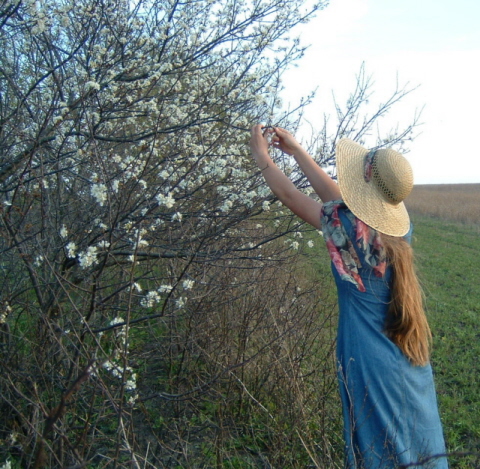 The Homestead
The Quiet Life
by Alexander Pope

Happy the man whose wish and care,
A few paternal acres bound,
Content to breathe his native air,
In his own ground.
Gerald relaxing and exercising by tilling the garden. Fall 2007 (photo by Helen).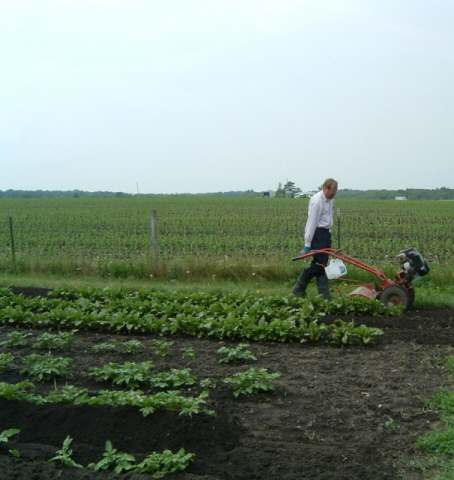 Whose herds with milk,
whose fields with bread,
Whose flocks supply him with attire:
Whose trees in summer
yield him shade,
In winter fire...
My morning glories on the fence. Summer 2007 (photo by Helen).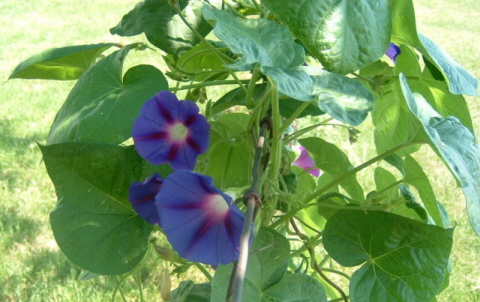 My gladiolus. Summer 2007 (photo by Helen).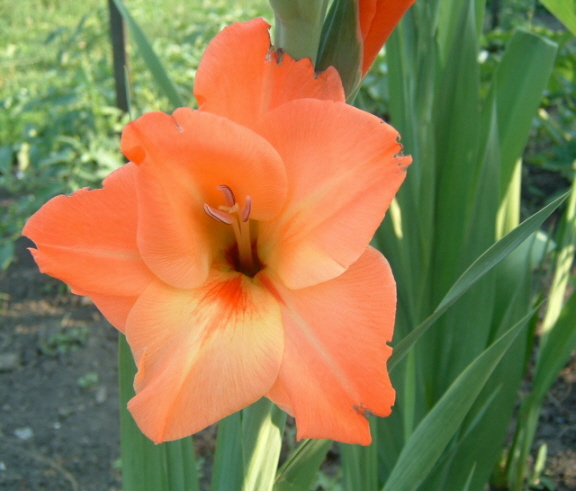 The "farm" has done very well this year, keeping me pretty busy from April to October. Though our entire homestead is just one and a quarter acres in size, there is always plenty to do, and productivity is high. A local farmer, delivering a load of hay, once commented to the effect that we made better use of space than anybody he knew. We continue to expand our little "Mulberry Lane Farm" business. It helps cover our garden costs, but more importantly, it provides me with many opportunities to talk to people, who often seem lonely and in despair. A smile and a kind word opens many doors. It is wonderful to be able to be a missionary right from my own front yard.
Matthew feeding an orphaned lamb. Spring 2007 (photo by 'Beka).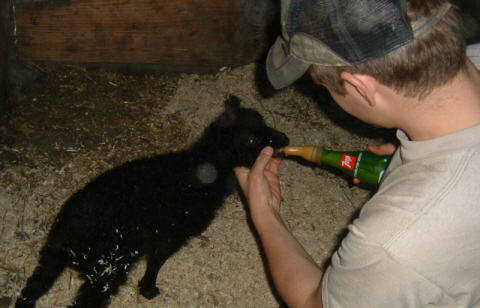 Our raspberries were a big hit with our customers this year! July 2007 (photo by Helen).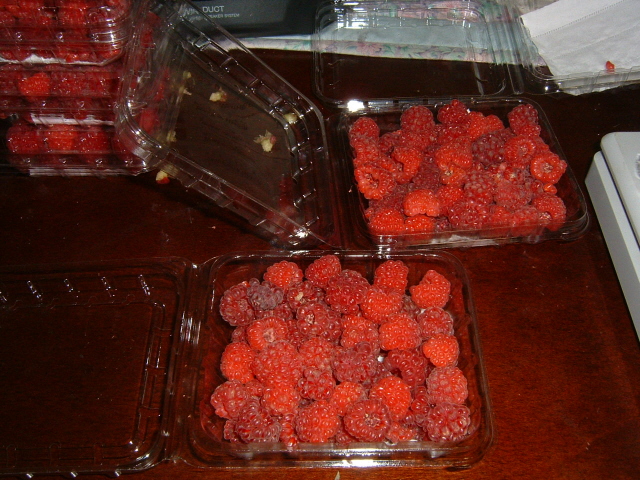 Gerald has always wanted a greenhouse. This year we finally took the plunge! We purchased a kit and built a little greenhouse in early spring. Now I don't have to convert my living room space near the south windows into a "greenhouse" to start our 150 tomato plants every year. It also serves as a very nice quiet spot to sit on a cold fall day and enjoy the sunshine!



Greenhouse built by Gerald and the children, Fall 2007 (photo by Helen).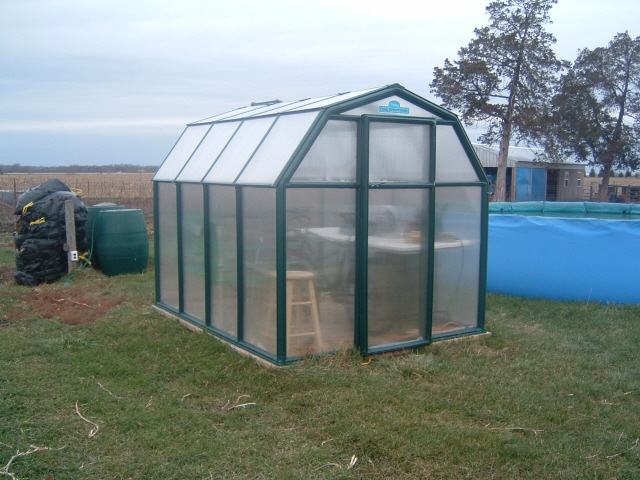 A strawberry under construction! Spring 2007 (photo by Rachel).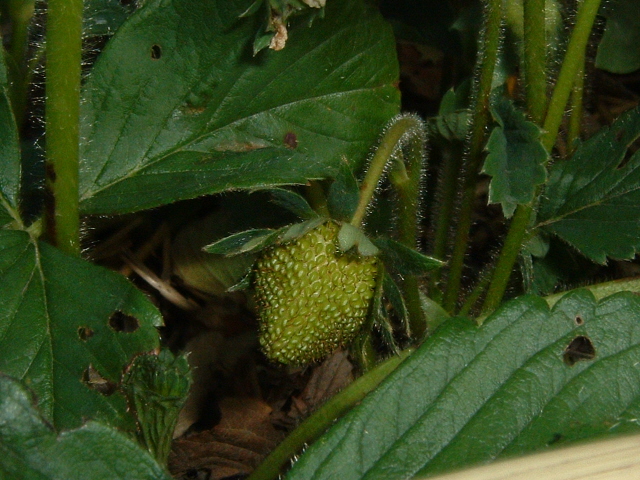 Many hands make light work! (Photo by Helen.)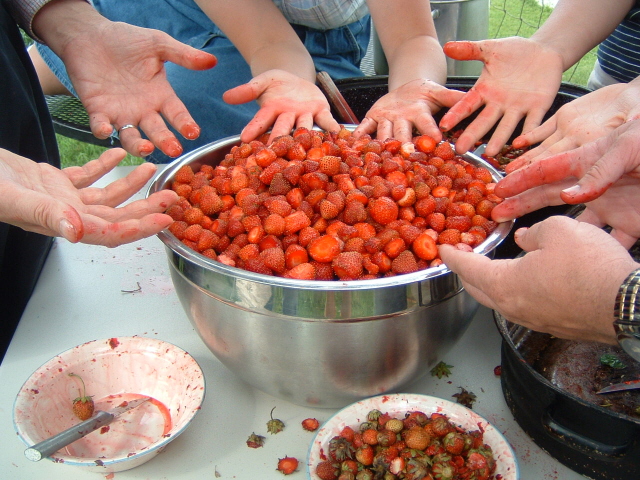 One...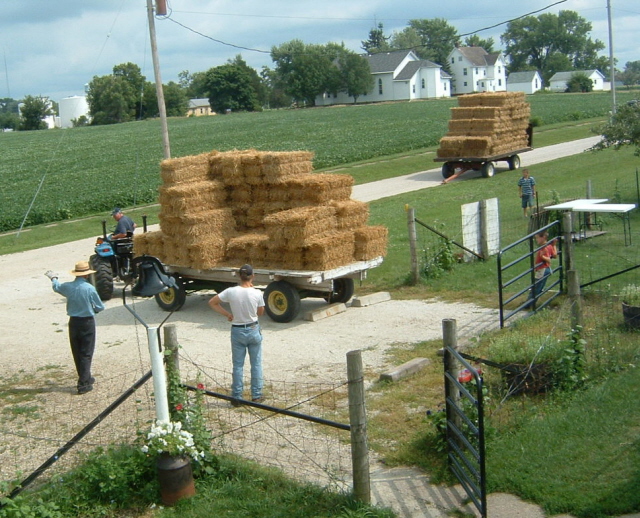 Two...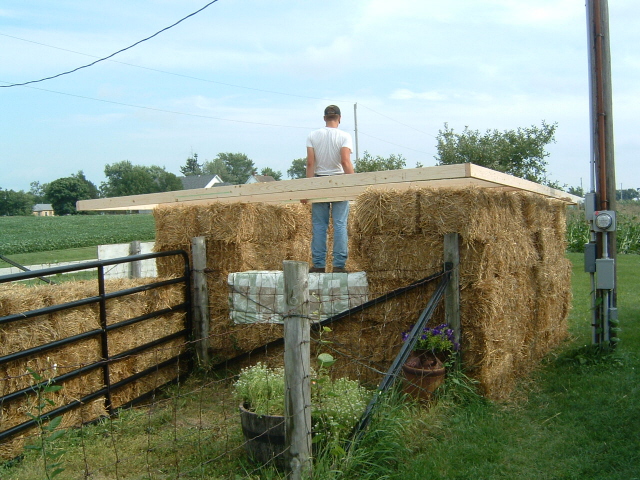 Three! My Mulberry Lane Farm straw-bale vegetable stand. Summer 2007. (Photos by Helen).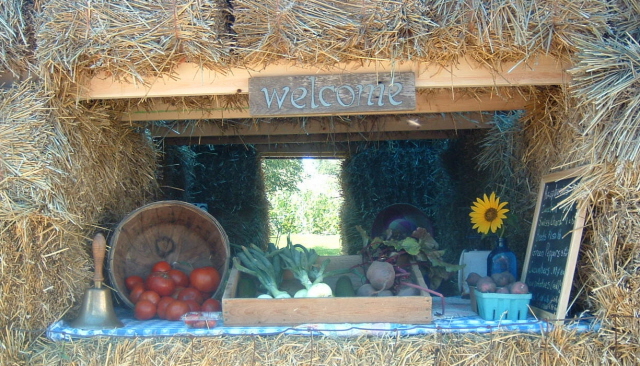 Me, Myself and I
I feel like peace has descended on our household after a very difficult couple of years. With this many people in a family, you can only begin to imagine what can take place! Emotions range from joy to despair---and everything in between! I feel like God has taught me much over the past few years, things which probably could not have been learned any other way but by actually going through the deep valleys. I feel that, though I am nearing my mid-fifties, in some ways, I am just figuring life out. Wisdom comes with years and with experience and I feel more and more like a genuine Titus 2 "older woman". I even look the part. Every time I wash my hair, it seems lighter---as in whiter!
Helen. Mother's Day. (Photo by Rachel.)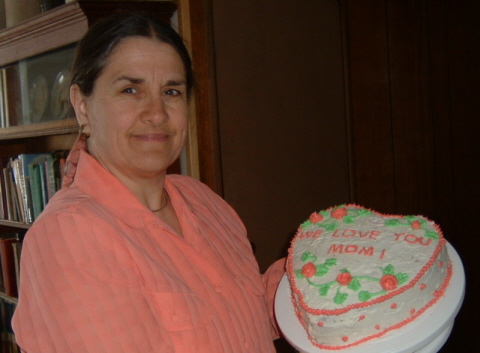 Homeschooling is a never-ending task, it seems, with children calling me constantly from their rooms for help. I have so many passwords, I have had to be creative so I can remember them all. To be perfectly honest, homeschooling (the book work) is my least favorite task. I stick with it because I know it is the best, godly option for my children. There is a battle for our children's souls taking place in this dark world today. It is my God-given task to protect them from the evil while they are young, and, at the same time, to spiritually prepare and empower them to take on the battle for themselves when they leave my nest. This calling requires great wisdom, the constant drop by drop filling of each one with Bible teaching, and lots of time together.
Matthew making pork sausage with fresh pig meat. December 2007 (photo by 'Beka).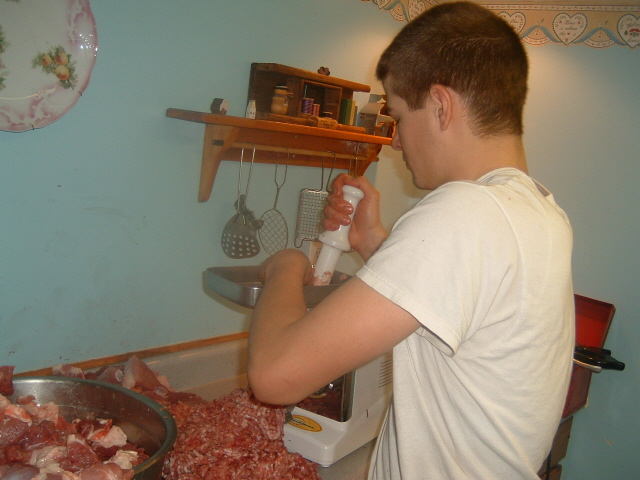 My favorite part of homeschooling is the practical teaching that takes place "over the kitchen sink", so to speak. But sometimes I question my sanity! Yesterday we butchered two big pigs. What a bunch of hard work and what a mess to clean up! And the laundry...! I was heartened to read the following quote last night, as Gerald and I were reading to each other at bedtime:
Mama, Aunt Hazel, Uncle Ernest, Grandma, and Grandpa had a real gift for integrating us children into farm life. Working along-side us, they taught us how to perform the chores and execute the obligations that make a family and a farm work. Together we planted and tended gardens; harvested and canned fruits, vegetables, and meats; milked cows and fed calves; gathered nuts, morels, wild berries, grapes, and honey; cut wood; and harvested corn, hay, and soybeans. Thus we acquired an impressive store of what came to be identified as "assumed knowledge"---an education that is hard to match. *1
Homeschooling is more than textbooks! Fall 2007 (photo by Helen).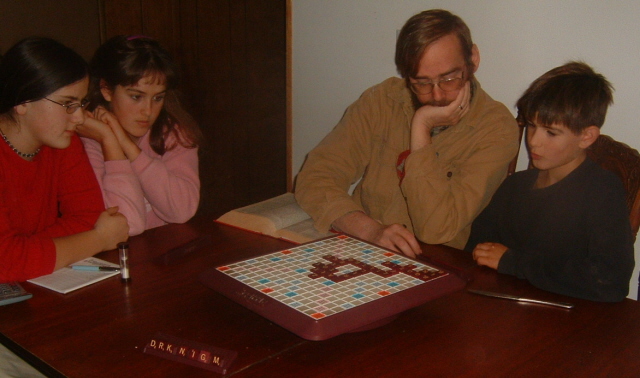 I pray for all of my children, both big and small, not that God will give them riches, or power, or glory---these will only someday burn and pass away---but for the things that will last for all eternity.
The Mother's Prayer
by Beatrice E. Harmon
Father, I thank Thee---
First, because Thou has made me a mother,
and of all women the mother is most blessed.
Second, because Thou has helped me to be a true mother,
by giving me understanding that I may teach my children.
Be with me in my daily task; shed Thy bright radiance about my home
that the young hearts growing here may be nourished with the living waters.
Birdhouses by my front door. December 2007 (photo by Rachel).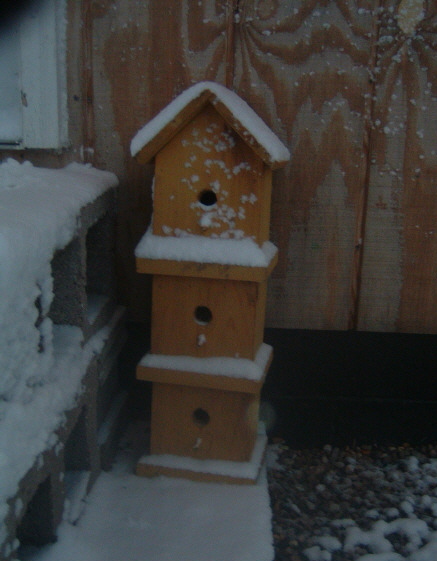 Guard them against evil, O Father, and keep them fresh in faith and trust.
Keep them pure of thought and deed.
Bless them with love, and with that strong belief in Thee which exalts the heart and sweetens the life.
Strengthen them, Lord, with knowledge,
and teach them to honor the duties Thou seest fit to impose upon them.
Give them richness of spirit, and the eternal joy which earthly shadows but deepen.
Guide them ever, O Father, and grant that they be well pleasing unto Thee.
In the name of Thine own Son, Jesus, I ask it. Amen *2
I do the accounting for our five home businesses, as well as all the accounting for the children. This takes about one full eight-hour day per week. I appreciate the convenient on-line banking our bank recently installed, which makes this task less burdensome.
Wonderful corn harvest! (Photo by Helen.)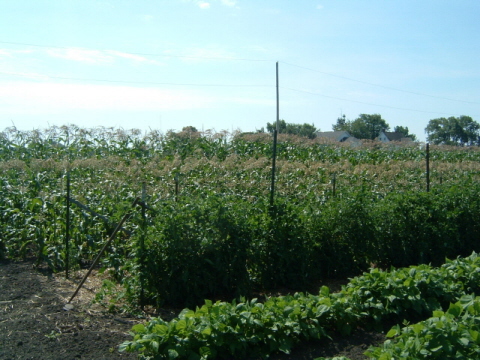 Best friends and my best helpers! October 2007 (photo by Helen).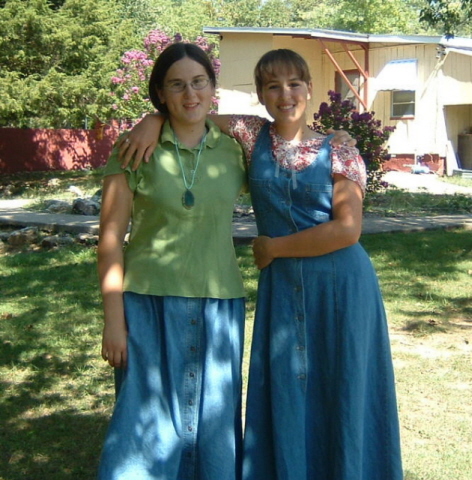 The two older girls can pretty much take care of the house and farm now, leaving me more time than I have had for many, many years to do a few other things. I have more time to write and talk to my parents and mother-in-law. I have, also, a few times this year, been able to minister to the sick and lonely in our town, something I have always longed to do. They enjoy our fresh baking and homemade bread, and this opens the door to friendships, and ultimately to share about the Lord and what He means to me. Ministry opportunities abound in our little town. But I have to keep myself reigned in. My primary calling is to minister to my own family at this time in my life.
I have also kept up my Titus 2 mentoring on various fronts. I enjoy responding to mothering questions via my website. I also have had the privilege of being a long-distance mentor to my niece (Gerald's sister's daughter) at her request, as she entered her first pregnancy. She had her baby a few weeks ago, an event I really felt a part of! She let me know when she was in labor, and it was my privilege to pray for her, and then rejoice with her when she delivered a healthy baby girl. I knew that once the birth took place the mentoring would really begin in earnest! The questions and answers have been flying back and forth, fast and furious! Phone calls happen when she is desperate for a quick response. I drop everything to help her knowing the need is great for her right at that moment. What a delight to be able to pass on to her tips from my years of mothering. She recently wrote, "Thank you for having all those children!" Mentoring mothers is my passion. I know that God meant for me to do this. It is thrilling and fulfilling.



My new niece, Lovelynn. December 2007 (photo by Gerald's sister, Marg).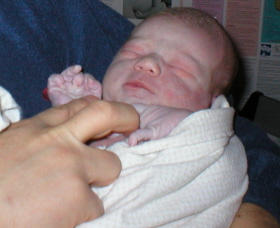 I think my child-bearing days are truly over now. I am at peace where God has me. My days are full of love and joy and I'm truly grateful to God for the full quiver He has so graciously bestowed upon me. I wish it had been fuller, but God knows best. Sometimes I really miss the three we lost; every now and then the wierdest set of circumstances makes me think of them and I get a tear in my eye. I wonder who they would have looked like. But God makes no mistakes and it is wonderful to trust Him all day, every day.
Food for Thought Regarding Christmas

by C. S. Lewis

"Christmas cards in general and the whole vast commercial drive called "Xmas" are one of my pet abominations; I wish they could die away and leave the Christian feast unentangled. Not of course that even secular festivities are, on their own level, an evil; but the labored and organized jollity of this---the spurious childlikeness---the half-hearted and sometimes rather profane attempts to keep up some superficial connection with the Nativity---are disgusting.

Three things go by the name of Christmas. One is a religious festival. This is important and obligatory for Christians; but as it can be of no interest to anyone else, I shall naturally say no more about it here. The second (it has complex historical connections with the first, but we needn't go into them) is a popular holiday, an occasion for merrymaking and hospitality. If it were my business to have a "view" on this, I should say that I much approve of merrymaking. But what I approve of much more is everybody minding his own business. I see no reason why I should volunteer views as to how other people should spend their own money in their own leisure among their own friends. It is highly probable that they want my advice on such matters as little as I want theirs. But the third thing called Christmas is unfortunately everyone's business.

I mean of course the commercial racket. The interchange of presents was a very small ingredient in the older English festivity. Mr. Pickwick took a cod with him to Dingley Dell; the reformed Scrooge ordered a turkey for his clerk; lovers sent love gifts; toys and fruit were given to children. But the idea that not only all friends but even all acquaintances should give one another presents, or at least send one another cards, is quite modern and has been forced upon us by the shopkeepers. Neither of these circumstances is in itself a reason for condemning it. I condemn it on the following grounds.






Homemade, simple, down-right delicious fun! Gingerbread man by Caleb.
Christmas 2006 (photo by Helen).






1. It gives on the whole much more pain than pleasure. You have only to stay over Christmas with a family who seriously try to "keep" it (in its third, or commercial, aspect) in order to see that the thing is a nightmare. Long before December 25th everyone is worn out---physically worn out by weeks of daily struggle in overcrowded shops, and mentally worn out by the effort to remember all the right recipients and to think out suitable gifts for them. They are in no trim for merrymaking; much less (if they should want to) to take part in a religious act. They look far more as if there had been a long illness in the house.

2. Most of it is involuntary. The modern rule is that anyone can force you to give him a present by sending you a quite unprovoked present of his own. It is almost a black-mail. Who has not heard the wail of despair, and indeed of resentment, when, at the last moment, just as everyone hoped that the nuisance was over for one more year, the unwanted gift from Mrs. Busy (whom we hardly remember) flops unwelcomed through the letter-box, and back to the dreadful shops one of us has to go?

3. Things are given as presents which no mortal ever bought for himself---gaudy and useless gadgets, ``novelties" because no one was ever fool enough to make their like before. Have we really not better use for materials and for human skill and time than to spend them on all this rubbish?

4. The nuisance. For after all, during the racket we still have all our ordinary and necessary shopping to do, and the racket trebles the labor of it.

We are told that the whole dreary business must go on because it is good for trade. It is in fact merely one annual symptom of that lunatic condition of our country, and indeed of the world, in which everyone lives by persuading everyone else to buy things. I don't know the way out. But can it really be my duty to buy and receive masses of junk every winter just to help the shopkeepers? If the worst comes to the worst I'd sooner give them money for nothing and write it off as a charity. For nothing? Why, better for nothing than for nuisance." *3
Keep it simple. Christmas 2007 (photo by Helen).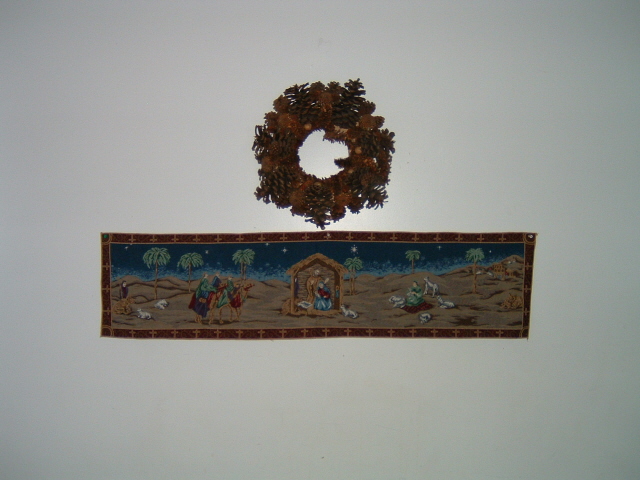 Cranberry Bread
INGREDIENTS:
2 cups flour
1 cup sugar
1 1/2 teaspoons baking powder
1 teaspoon salt
1/2 teaspoon baking soda
3/4 cup orange juice
1 tablespoon grated orange peel
2 tablespoons shortening
1 egg, well beaten
1 1/2 cups fresh cranberries, coarsely chopped
1/2 cup chopped nuts
It got eaten pretty fast! Late Fall 2007 (photo by Helen).
Directions:
Preheat oven to 350ºF. Grease a 9 x 5-inch loaf pan.
Mix together flour, sugar, baking powder, salt and baking soda in a medium mixing bowl. Stir in orange juice, orange peel, shortening and egg. Mix until well blended. Stir in cranberries and nuts. Spread evenly in a regular bread size loaf pan. (I use the mini bread pans as they cook faster. These make lovely gifts or sale items.)
Bake for 55 minutes (takes way less for a small loaf) or until a toothpick inserted in the center comes out clean. Cool on a rack for 15 minutes. Remove from pan; cool completely. Wrap and store overnight.
A Closing Thought
I have been considering beginning to write The Mother's Companion once again. Many have written over the years letting me know they are interested in subscribing should I ever take it up again. It would need to be an online version, rather than mailed, printed copies as previously. It would be set up on a pay-to-download, per-issue basis, rather than an annual subscription. It would probably be shorter than most of my previous issues. Gerald is my editor, and his days are very full with research responsibilities, so he can only handle shorter issues. And it might only be possible to publish a couple of times per year. But my files are bulging with ideas, I've learned so much that I would love to pass along, and it seems better to do what little I can now than to wait until everything is in order to begin in a big way once again. In truth, I long to take us this aspect of my Titus 2 calling once again.
You may have noticed the "Sign Up" area in the navigation bar at left, near the top. If you would like to be notified by e-mail whenever I post new additions to this website, including new issues of The Mother's Companion, follow the "New Content e-mail list" link found there.
Do write me and send me a family photo. (Use the "E-mail us" link in the navigation bar at left.) I would love to hear from you!
Blessings,
Helen
The darkness deepens... (Photo by Helen.)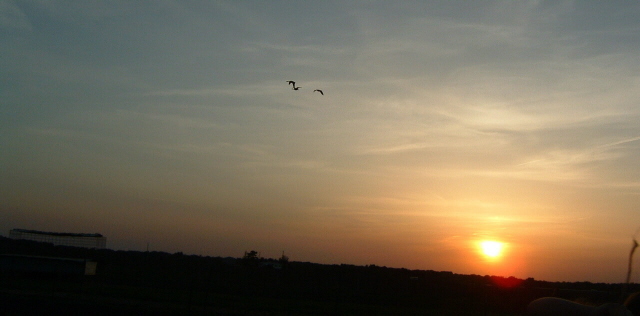 Eventide
by Helen E. Aardsma
The golden orb sinks in the west,
fields play with purple hues,
smells of peppermint tea and toast,
water running in the tub,
wild laughter and joyful singing.

Peace descends upon the house,
candles flicker, sweet smellin' spice,
whisperers tell yet untold secrets,
little children toss sleepily in beds,
low muffled sounds of a young woman's voice reading to another.

The clicking of the front door latch,
final bedroom checks,
last kisses goodnight,
all secure, the darkness deepens,
Lord with me abide.
... Lord with me abide. (Photo by Timmy.)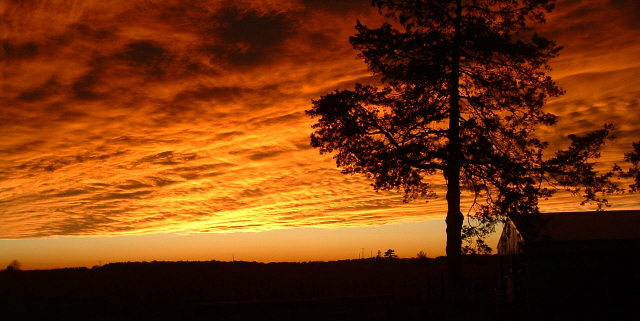 Footnotes

*1 -- Mildred Armstrong Kalish, Little Heathens: Hard Times and High Spirits on an Iowa Farm During the Great Depression, Bantam Dell Books, New York: New York, June 2007, 22.
*2 -- William Lyon Phelps, The Mothers' Anthology, Doubleday, Doran & Company, Inc., 1040, 179.
*3 -- C. S. Lewis, The Joyful Christian, Macmillan Publishing Co., Inc., New York: New York, 1979, 203-204.