Update (2010)
Christmas excitement pervades our home as I write. Rachel is playing "Lo, How A Rose E're Blooming" on the piano off in the living room, supplying my writing efforts with a lovely natural background. The mailbox has been overflowing with Christmas cards, family newsletters, and parcels from so many of you dear friends --- I love heading out to the mailbox this time of year.
Much of our family news has already been posted on Helen's Journal throughout the year, so I will keep this update brief. If you want more details on our family life, have a look over there. You can even Sign Up to be notified by e-mail whenever I make a new journal post.
Seems there is always something to repair at our house.
I'm in love with my repair man!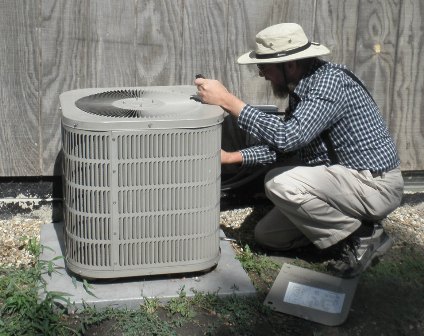 Gerald
Gerald has had a good year health-wise. He has been stable all year for which we praise the Lord! I know many of you faithfully pray for Gerald, and we do thank you! Gerald continues with his monthly IVIG treatments at the hospital.
In Gerald's spare time he is writing a new book called "The Flood Happened 3500 B.C." This is a second book in a series, the first being The Exodus Happened 2450 B.C. It is always exciting to follow his research and makes for great meal time conversations!
Gerald is often deep in thought regarding his Bible/science research projects, but always surfaces when called upon to tend to my needs or the needs of the family. He is as great a grandfather as he is a father! I often think of Mark 9:41 as I watch him: "For whoever gives you a cup of water to drink because of your name as followers of Christ, truly I say to you, he will not lose his reward."
I'm so grateful for Gerald, the impact he has had on my life, that of our children, our grandchildren and the world beyond our home.
One hundred years from now,
It won't matter what car I drove,
What kind of house I lived in,
How much I had in my bank account,
Nor what my clothes looked like,
But, the world may be a little better
Because I was important in the life of a child.
Gerald takes a moment to play
with our grandson Samuel.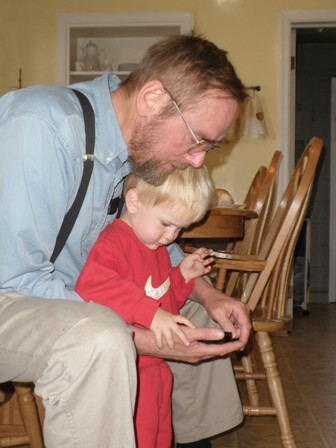 The Aardsma Five
Last Christmas Gerald and I bought a website for the five kids at home. We wanted them to have the experience of setting up their own website. We now call Matthew, 'Beka, Rachel, Tim and Caleb The Aardsma Five.
Matthew is half way through his sophomore year at the University of Illinois. He is doing well and his diligent studying has produced terrific grades. Matthew is courting a lovely, godly young woman named Esther whom we have known since she was a very little girl. She is delightful and we happily welcome her into our hearts and home!
Matt and Esther writing a letter in Spanish
to a child in a third world country.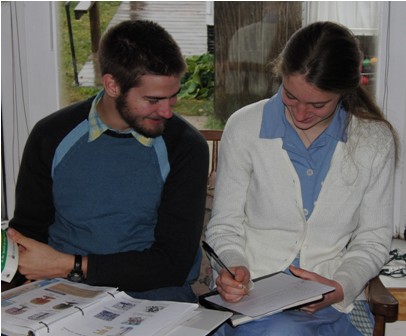 'Beka left for Bob Jones University this past fall and broke our hearts! It was a dreaded and very difficult goodbye for us all. How we have missed her! She is doing well there, and she has proven to be an excellent student! She commented on what an advantage she had over many other students because of our family's insistance on the use of good grammar in the home.




'Beka carrying a heavy load of plastic
out to the barn.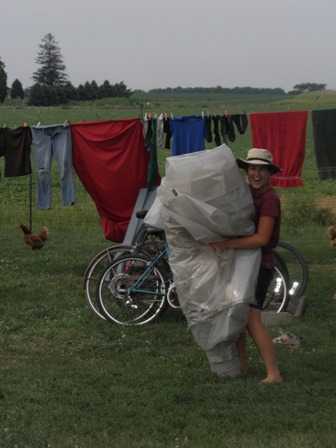 Might as well laugh about it!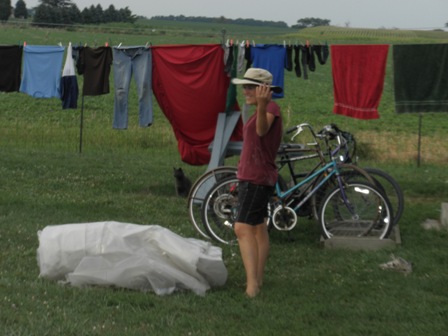 Rachel is my last "little" girl, now all grown up for the most part. Rachel has adjusted well to 'Beka being gone, though we get good use of our free mobile-to-mobile minutes! Rachel manages to keep up with the workload and school work and even has found time to add a new and very special part to her life, a young man named Joey. He is officially courting Rachel! Joey's family and our family have been friends for many years, and we gladly welcome him into our ever-expanding family.
Rachel and Joey.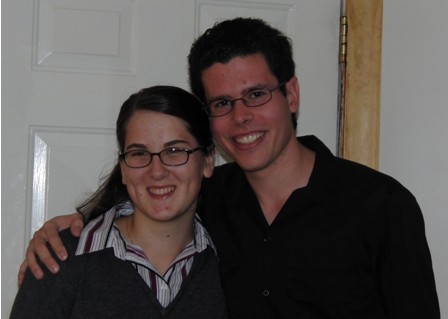 Timothy turned 13 this year. He is now taller than I am. He has a sharp wit and keeps the home in good spirits! He can hardly wait until he gets into high school next fall because that means, in our house, no more dishes to wash (if you're a boy that is). Tim is active on the farm, pulling his weight in the firewood cutting/splitting business and other farm and garden tasks. He also works part-time for Matthew's yard business.




How fun to catch a really big catfish!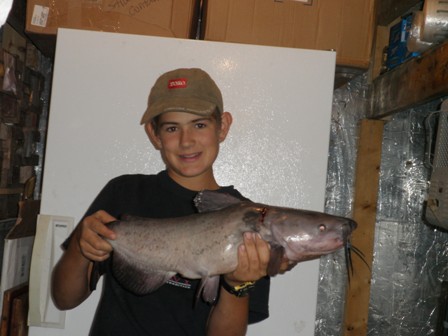 Caleb (11) enjoys working on robotics stuff with Gerald. Anything electronic is of interest to Caleb. Many suppertimes Caleb can be seen with notepad, wires and gadgets in hand, talking to Gerald about how to solve this, that or the other problem with his equipment. I've been taking Caleb to the junkyard to collect components from broken TV's and stereos. He comes home thrilled, and begins the dismantling of parts to put into their various containers for his next project. Caleb assists on the homestead and can work as hard as any man.
Caleb tutoring his nephew Ethan on
setting up a basic electronic breadboard.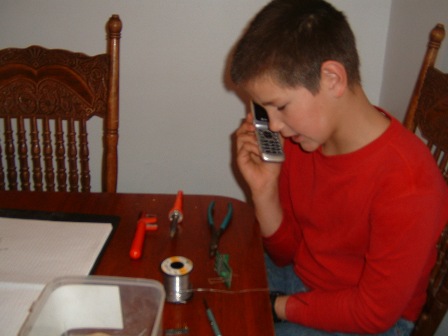 Loss
In April our oldest child, Jennifer, lost a pre-born baby at 18 weeks. The deep sadness is still fresh and difficult to write about. The baby was fully formed and the size of my hand when it was born. They named him Anthony.
Jennifer had a funeral and burial for Anthony. Gerald, Caleb and myself were able to take a quick trip to Virginia to attend the funeral and share in this sorrow. Many tears were shed. God was there. He saw. He knew. He cared. We know God means it all for our good, yet we grieve and wonder why. What I do know is that I have the blessed hope of seeing Anthony in heaven someday.
I added "Hope" to Jennifer's Willow Tree Collection
in memory of Anthony.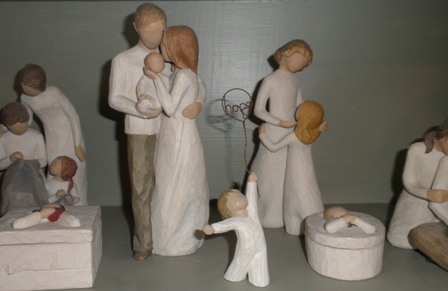 Woman to Woman Support Group: The Young Mother's Class
After meeting a few local young mothers with real needs this past year, I felt burdened to start a Young Mother's Support Group right in my own home. We meet once a month. How I have come to love these women!
Eating lunch together at the Young Mother's Class in my home.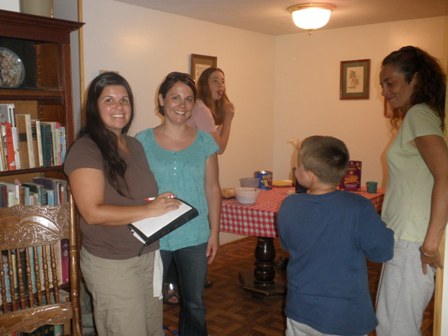 Mulberry Lane Farm
We had a great and very busy year at Mulberry Lane Farm. Our customer base continues to grow by leaps and bounds. During the four week strawberry season, we did nothing but pick, pack, sell, make jam, freeze berries and run the market stand. It was wild!
Our move in the direction of U-Pick Strawberries is off to a good start. We learned this year how to deal with customers coming onto the property, and how to spread the demand out to meet the quantity of strawberries available.
We are excited about the growth of the farm, but not sure how we will handle the labor requirements as our children continue to grow up and leave home.
Rachel and 'Beka working
in the strawberry bed.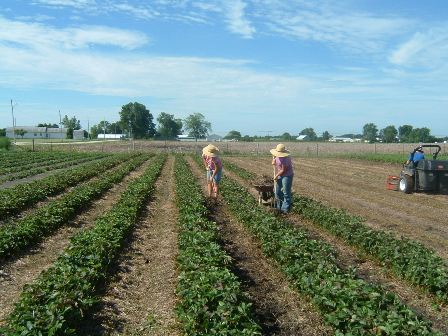 Dr. Aardsma's Math and Spelling Drills
Dr. Aardsma's Drills are now online!

Gerald and I (with a little help from our artistically talented kids --- thank you Jennifer and Steve Hall) developed www.DrAardsmasDrills.com this year, making our Dr. Aardsma's Spelling Drill and Dr. Aardsma's Math Drill available online. We are getting some great feedback from our customers, and it is fulfilling to be providing this quality educational product to so many homes.

Students go directly to www.DrAardsmasDrills.com to take their daily math and spelling drills right on the web! Children love the technology and parents appreciate the ease of set up---no more scratched CD's or installation issues! Parents receive daily e-mails letting them know if their students have (or have not) done their drills and what scores they achieved.

Groups are purchasing the drills in quantity, getting a greatly reduced price on each drill purchased. We have just started a Reseller Program. This enables individuals to resell Dr. Aardsma's Drills for profit to their family, friends, homeschool group, classroom or school.

We also developed a nifty, free application for our drills: Dr. Aardsma's Spelling Bee. This is a great way to challenge your students to some healthy competition in academics!






The Gerald and Helen Aardsma
Homecoming 2010.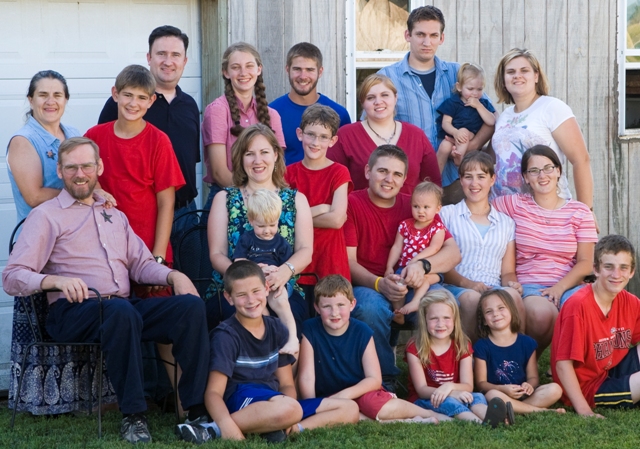 Closing
I love the old Christmas carols.
Lo, how a rose e'er blooming
from tender stem had sprung,
of Jesse's lineage coming
as men of old have sung.
This carol is from Isaiah's prophecy: "A shoot will come up from the stump of Jesse; from his roots a Branch will bear fruit." Isaiah 11:1.
"Soon and very soon, the Rose of Sharon will return and, with him, all the fragrance and joy of a longing fulfilled. This year when you ponder His coming as a babe in Bethlehem, remember also that He will come again, putting every wrong to right and reigning as prince of peace and King of Kings."*1
Blessings,
Helen
...for stoppin' by!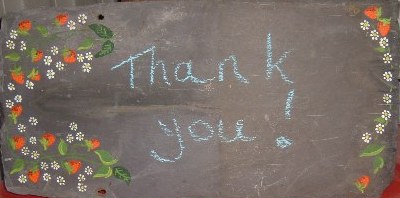 Footnote
*1 -- Pearls of Great Price, Joni Eareckson Tada, Dec. 22, Zondervan, 2006.